You are here: Home // travel bahamas
Tweet Eleuthera Island — The REAL Bahamas HD From: RealBahamas | May 15, 2009 Eleuthea Bahamas — http://www.myoutislands.com. It's better in the Bahamas! Welcome to the Out Islands of the Bahamas, or as we like to call it the REAL Bahamas. This video is about the island of Eleuthera and Harbour Island. It is our intent to show a glimpse of our two hosts (Kevin Oestenstad and Jennifer...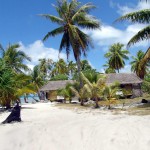 Tweet NASSAU, Bahamas – When falling leaves and cooling degrees spawn an itch for the sunny side of the street, the Islands Of The Bahamas offer up the season's hottest antidotes. Back by popular demand, The Bahamas' most successful promotion of all time offers travelers booking by Dec. 1, 2010 the opportunity to receive free companion airfare or an instant air credit...