You are here: Home // bahamas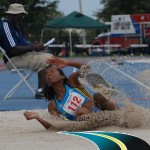 Tweet Binca Stuart leap for Gold. ON THE FINAL DAY of the Sr. Central American Track and Field Championships in Mayaguez, Puerto Bianca Stuart leapt into the history books by matching the Championships record as well as setting a new Bahamian National Record in the Long Jump. Stuart's jump was 6.81m (22'-4-1/4"). Elva Goulbourne of Jamaica set the mark in 2003 in Grenada. This surpasses the IAAF...
Tweet Wednesday 29th September, 2010 ARMED ROBBERY Sometime around 7:00 am on Tuesday 28th September, 2010 police received information of an armed robbery at Crooked Island Street and Cordeaux Avenue. Police responded and information received that a male while exiting his vehicle at Crooked Island Street was approached by another male allegedly armed with a handgun demanding cash. It is reported...