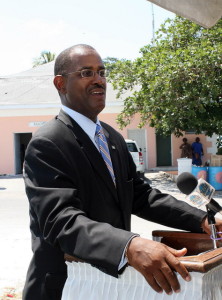 Nassau, Bahamas — An Environmental Health Services employee was gunned down on Harold Road earlier today.
Bahamas Press reports the government employee was shot to death, as thieves sought to steal public money.
BP detectives at the scene around 11am this morning report, Dwayne Cartwright, [THE VICTIM] was making his way to headquarters to drop off the morning deposit. The funds are collected daily from refuse and scrap metal payments at the dump.
Usually when Cartwright makes his drops he is escorted by police, but this morning's exercise no police escort showed up; we wonder why.
As he approached the highway exit from the dump, some men traveling in a Honda wearing construction hats flagged Cartwright down. One of the men opened fire on the victim shooting him fatally.
Cartwright becomes the 235th victim of senseless murders in the Bahamas since 2009.
We are left with one thought following this incident; why did the police fail to escort Cartwright to the deposit location? The car was ditched and was marked without any decals or plate. How could such be on an open PUBLIC HIGHWAY?
Bahamas Press is calling for the powers that me to answer in this latest tragedy.
The victim is believed to be in his late thirties.