Oswald Brown
Oswald Brown Writes
By OSWALD T. BROWN
As I suspected, the breakdown of the Bahamas Defense Force craft taking Prince Harry to North Eleuthera on Sunday was featured on the BBC World News on Monday as well as British newspapers and other international publications.
This clearly was a total embarrassment to the Bahamas Government, and a full investigation needs to be launched into why a more seaworthy boat was not chosen to transport the grandson of Her Majesty Queen Elizabeth who was in this country as her representative on the occasion of the celebrations of 60th Diamond Jubilee.
I refuse to believe a theory being circulated by cynics that this was a deliberate act by some Defense Force officers to embarrass Prime Minister Hubert Ingraham and his FNM government.
That theory suggests that some members of the Defense Force were peeved by Ingraham's blatant disrespect for Police Commissioner Ellison Greenslade during his address at the opening of Zhivargo Laing's Fort Charlotte campaign office when Ingraham openly ridiculed Greenslade's promotion of a number of officers on the Royal Bahamas Police Force.
One reason why I refuse to believe this is that it represents a dangerous line of thinking, given the fact that Ingraham is perceived by many to be on course to establish himself as the Bahamas' equivalent to Francois "Papa Doc" Duvalier, Haiti's late notorious dictator.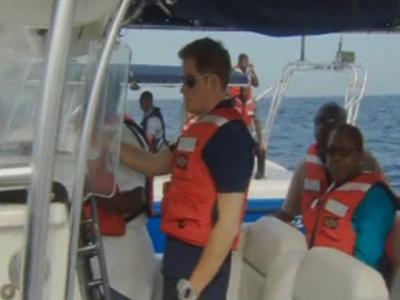 The danger lies in the fact that when the "armed forces" are opposed to a dictator, a coup generally follows and they take over the government by force. This sort of thing is foreign to The Bahamas, so this is the reason why I refuse to believe the reports circulating that the crippling of the Defense Force craft carrying Prince Harry to North Eleuthera was deliberate.
Having said that, however, it is clear that the government, or someone in authority at ZNS, agrees that it was a total embarrassment to The Bahamas.
It may be a coincidence, but I think it is strange that the report on Prince Harry's visit was not considered newsworthy enough by ZNS in tonight's broadcast to present the story until half-hour into tonight's news.
What was even more mindboggling is that when ZNS decided to present the story, it was introduced it as "Out Island News." They later expanded on Prince Harry's visit during their coverage of events held over the weekend as well as his departure for Jamaica.
Keep in mind that today, the Prince's visit was mentioned in numerous newspapers around the world and one of the United States' most venerated newspapers, the Washington Post, published a "montage" of more than 40 photographs of Prince Harry's visit to The Bahamas and Belize.
Without question, ZNS has been demonstrating lately that it is under "heavy orders" to support the FNM in its broadcasts, which is not surprising considering that the chairman of the Broadcasting Corporation is Michael Moss, a dyed-in-the-wool FNM, who is of such value to the FNM that he is also the chairman of the Bahamas Electricity Corporation, which recently decided to make provisions for thousands of Bahamians who have had their electricity turned off because they couldn't afford to pay their electricity bills to come in and make arrangements with BEC to have their lights turned on.
This election ploy unquestionably is a part of Ingraham's campaign strategy to lull Bahamian voters into forgetting that it is because of the mismanagement of The Bahamas' economy by himself, as Minister of Finance, and his inept and incompetent Minister of State for Finance Zhivargo Laing that the Bahamian economy is in such poor shape and unemployment is at record levels, which is the major reason why many Bahamians can't pay their electricity bills and put food on the table for their families.
Even a blind man can see what Ingraham is attempting to do. But the more he abuses his power by trying to bribe Bahamians into voting for the FNM, the more obvious it becomes that he a desperate man trying to hold on to power by any means possible.
Here is was in Exuma over the weekend promising residents of that island that they will have Cable TV before Easter. If my memory serves me rightly, one of the conditions for granting Cable Bahamas the license to provide Cable TV to the country was that they would extend Cable TV service to every island in The Bahamas by a certain period of time, which passed a long, long time ago.
Clearly, the Bahamian people are not fool enough to be duped by Ingraham's snake-oil-salesman strategy to win their votes.
If the rumours about the crippled Defense Force boat are correct, it would seem that there is more than one person on the Bahamas Defense Force who wants to let Ingraham know that The Bahamas has had enough of the FNM and his dictatorial leadership.
Unfortunately, the world-at-large may also be privy to this decision by the Bahamian people as a result of the international embarrassment caused by the breakdown of the Defense Force vessel taking Prince Harry to North Eleuthera.

–ends–