Prime Minister Christie assures a National Lottery will be setup…
By Kendea Smith
Journal Senior Writer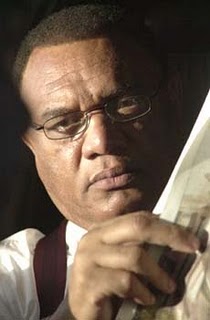 If Bahamians vote in favour of a national lottery, the government will offer more than $1 million as winnings, according to Prime Minister Perry Christie.
"[Minister responsible for elections] Dr. [Bernard] Nottage has to [answer] that question precisely. I know that it is going to be over $1 million," he said while speaking with reporters yesterday.
Prime Minister Christie also said the government is prepared if Bahamians answer "yes" to one question in the upcoming referendum and "no" in the other.
Come January 28, the Bahamian electorate will be asked two questions – "do you support the regulation and taxation of web shop gaming?" and two, "do you support the establishment of a national lottery?"
The prime minister has stressed that if the electorate says no to the first question, the government will do its best to shut down web shops.
But when it comes to the national lottery, there is more to be done.
"With respect to the lottery we have prepared ourselves for the lottery through legislation – the Lottery and Gaming Act of The Bahamas. If there is a no vote for web shops and a yes vote for the lottery then we are prepared for that and we recognise that through the region the lottery itself has games. So the lottery isn't just one thing where you buy numbers, but they have different games that they are allowed to play," Mr. Christie said.
"What we have not done is put in place the kind of money or resources because we don't want to spend money to anticipate the vote one way or the other. And so really and truly we have identified the technical people and we have consultants that will come from South Africa, who are experts in legislation, experts in the technology to deal with this issue and we are otherwise ready to deal with vote."
Earlier this week, the Bahamas Christian Council (BCC) requested that the government change the government's first question – replacing the word "regulation" with "legalisation."
The Council said by using the term regulation, the government is implying that web shops are currently legal.
But Prime Minister Christie said it is simply too late to change the question as Bahamians will vote on January 28.
"I don't quite understand their question because when you use the word regulation that encompasses the word legalisation. I think that we were trying to frame a question that people could understand. They understand the word 'regulate.' This thing is on now. Time is running out and the referendum is on the 28 and time is racing. Whatever the position was indicated in Parliament [Wednesday], those are the questions we are going to ask the people of this country when they go to vote," he said.