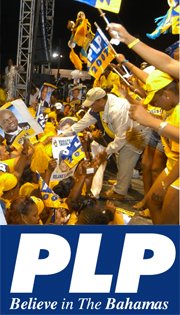 Press Statement
Progressive Liberal Party
10th February 2012

NOW THEY CARE?
LAST-MINUTE PRE-ELECTION HELP FOR BEC CUSTOMERS
The FNM government has mismanaged BEC from the start, neglecting basic maintenance of BEC power plants, failing to improve operating efficiency and failing to reduce costs to consumers.
But with an election looming, the FNM is suddenly worried that more than 6,000 Bahamians are without power. For more than four years, they've cared not at all – but apparently they might be afraid to ask Bahamians for their votes as they sit in pitch darkness.
At a time when BEC is at its weakest financially and struggling to purchase oil and other supplies; at a time when BEC is seeking to impose an "extra tariff" on the backs of Bahamians to defray costs, the Prime Minister ordered the power supply of thousands accounts reconnected just in time for the General Elections.
While the PLP welcomes the relief to thousands of households, we question the years of mismanagement that led to this moment.
If the FNM really cared about Bahamians, they would not have canceled the alternative payment plan left in place by the PLP to assist struggling customers who had fallen on hard times.
If the FNM really cared about local businesses, they would not have neglected the maintenance of BEC power plants that caused frequent blackouts resulting in financial losses to many local businesses.
In this case, as on so many issues, the FNM is doing too little, too late.
The PLP government passed on more than $80 million in savings to BEC consumers during its last term in office. This was a reduction of 17.5% in electricity bills while improving the operating efficiency and financial performance of the corporation. We have done it before and will do it again.
The Bahamian people need a government that works for them all the time, not just at election time.
BELIEVE IN THE BAHAMAS!