Chief Meteorologist Donna Duncombe dies…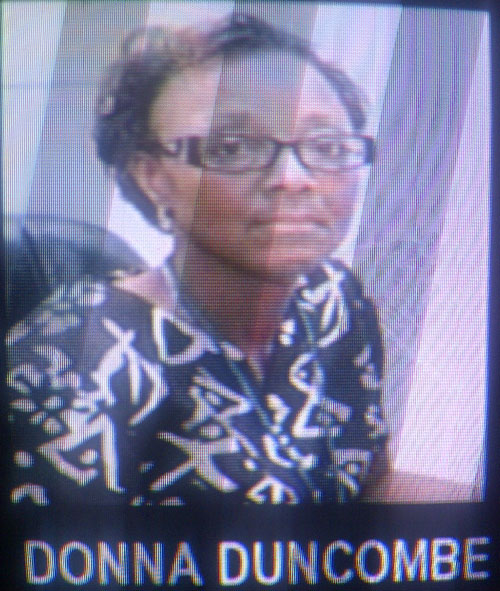 Freeport, GB – Another woman has died following heart condition in New Providence. She is former Chief Met Officer on the island of Grand Bahama, Donna Duncombe.
Readers should remember Duncombe was one of five Bahamians fired by the Ingraham and his evil regime after its vicious rule began in 2007.
Duncombe, who was the voice on radio when Hurricanes Frances and Gene rocked the northern community, updated the country while residents of the Northern Service were pulverized by dangerous conditions.
And what was her pay?
Well, after returning to office, The Ingraham Government in its attempt to destroy the lives of Grand Bahamians closed the Freeport Weather Service doors on 31st December, 2009, leaving the island for the first time in decades without a weather advisory service which was specific to the Island of Grand Bahama.
A deadly tornado of 2010 claimed lives at the Container Port. The incident forced an investigation where residents learnt that the government was liable for the tragedy. A senior department official conceded that, while the Bahamas Meteorological Department is responsible for issuing warnings for the entire Bahamas, the closure of the Freeport Weather Service in 2009 meant that the level of communication that existed between forecasters, and Grand Bahama news stations was severely diminished.
While Duncombe's illness and stress took hold following unemployment in 2009, she was reengaged following the tornado disaster; years later by the 'vicked' Ingraham administration – but the damage was done.
Dumcombe died today in a New Providence hospital
Bahamas Press records to our readers across the country here is another an example of so many who have been scared by a merciless 'vicked' and spiteful regime, which failed to believe in Bahamians and put them first.
We extend our condolences to the Duncombe family, and pray that the soul of our dearly departed sister along with those gone before, rest in peace.