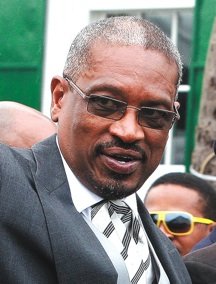 Thirty-nine years ago, we all stood proud on Clifford Park and watched the Union Jack Flag being lowered as our beautiful Bahamian flag was raised. We held our heads high at the sound of our National Anthem, "March on Bahamaland."
Thirty-nine years have gone since our freedom from British rule, and as a country we have much to be proud of. Our citizens have become world renowned as athletes, as musicians, and in academics, to name a few. This year we focus on the positive strides that our women have made with The Women Suffrage Movement, and I encourage all women to stay strong and fight to preserve the things that those before you have fought for.
We've come a long way as a community and as a nation, but we still have a long way to go. Let us now work together to accomplish much more. Let us free ourselves  from selfishness, hatred, greed and from the mental slavery that convince so many that they cannot achieve their hopes and dreams. Let us turn to our creator, the real foundation of nations, the one who raises them up to serve and care for the people dwelling in their boundaries.
Let us thank God for making us citizens of this land of freedom and opportunity. May we continue to show love and respect for each other, and live together as one.