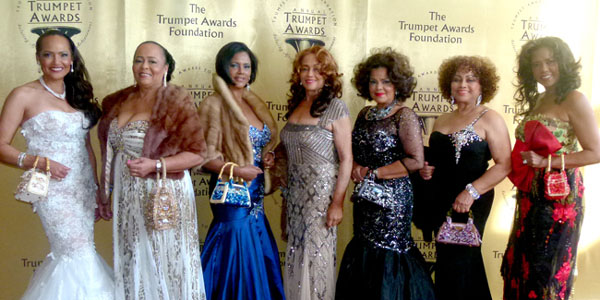 ATLANTA, Georgia – Scores of celebrities, politicians, entrepreneurs, professionals and individuals from around the world gathered in Atlanta to celebrate "22 Years of Excellence" at the 2014 Trumpet Awards. Originally presented by Turner Broadcasting in 1993, and now presented by the Trumpet Awards Foundation, the Trumpet Awards were created to herald the accomplishments and success of men and women who have excelled in a chosen profession or career and "significantly contributed to enhancing the quality the life for all" while succeeding against immense odds.
Seven dynamic women known as "The Williams Sisters" made history as they received the inaugural 2014 "Entrepreneur Trumpet Award". From the time they stepped on to the red carpet dressed in La Rose gowns accessorized with Harl Taylor Bags, to their appearance on stage, all eyes were on the beautiful sisters from the Bahamas being recognized for their collective talents, business acumen, entrepreneurial skills and philanthropic endeavors.
Albertha Williams Bartlett is an attorney serving as Deputy Director of Legal Affairs in the office of the Attorney General. She was previously a prosecutor with a 90-95% conviction rate and has been featured on Forensic Files, Court TV.
Elaine Williams Pinder, MBE, is CEO and President of the GILGAN Group of companies which includes the Bamboo Shack chain of seven fast food restaurants; Frankie Gone Bananas on Arawak Cay and La Rose Boutique, one of Nassau's most exclusive fashion destinations. The newest introduction to the GILGAN Group is Sapodilla of West Bay, an upscale fine dining restaurant on the Western end of New Providence. Ms. Williams Pinder employs over 400 Bahamians. Future expansions include franchising the Bamboo Shack brand in the United States in 2015 and the further development of Sapodilla Estate. Elaine says, "My success is due to my commitment to God, hard work and passion for excellence. I desire to be an agent of hope."
Ethelyn Williams Lundy has degrees in Business Administration and Interior Design. Educated in Canada, France and Italy, Mrs. Williams Lundy is a Landscape Architect and interior and hardscape designer; she has designed and decorated La Rose Boutique, Sapodilla Estate, each of her sister's homes and worked on other projects.
Sharon Williams Stewart graduated with a degree in education from St. Benedict's University. She has taught music to hundreds of students in the Bahamas and is actively involved in the music ministry at the historic Bethel Baptist Church, pastored by her husband, Reverend Timothy Stewart. She is an Administrator and Accounting Executive of the GILGAN Group of Companies.
Dr. Veronica Williams McIver graduated from high school at the young age of 15. She pursued a Biology degree from the University of Waterloo and graduated with honors. Dr. Williams McIver is the first black female graduate from the University of Florida, College of Dentistry. She is the past president of the Bahamas Dental Association, and the first female dentist in the Bahamas. She has a private practice. Dr. Williams McIver is the developer of the luxurious Ocean West condos and has plans to open a boutique hotel in the near future.
Daphne Williams Adderley studied French at Sorbonne University in Paris, France. She obtained her Master's Degree in Business Administration from the University of Miami. Daphne has had a successful banking career for decades. She currently works with her sister Elaine in her many business ventures.
Janet Williams Kemp is an accountant by profession. She is a very successful entrepreneur and runs several businesses. She is the youngest of the seven Williams sisters and is passionate about leaving a legacy for her children.
Although the Super Sisters have achieved individual success, they take great pride in their loving, close knit relationship and pool their talents to assist each other at all times. They give full honour and glory to God and attribute much of their success to their parents, the late Bertram and Evelyn Louise Williams, who taught them the value of hard work, strong morals and the power of family. Their hope is that their success, relationship and commitment to family is an inspiration to all.
*Past Trumpet Award honourees include News Anchor Bryant Gumble, CEO Russell Simmons, Famous director and producer Spike Lee, Maya Angelou, Muhammed Ali, Coretta Scott King, Steve Harvey, Reverend Al Sharpton, Michael Jordan, the Right Honourable Perry Gladstone Christie and dozens of influential world changers.