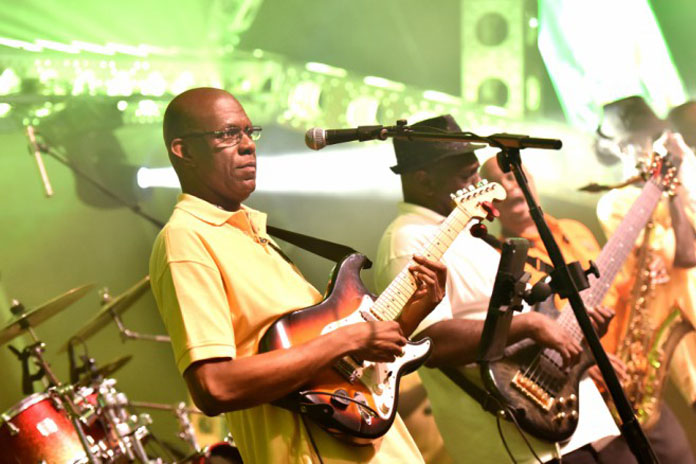 Nassau, The Bahamas — Bahamian musicians and entertainers received a unique opportunity to showcase their talents at a number of locales and before the representatives of nearly 50 countries, during the 57th Annual General Meeting (AGM) of the Boards of Governors of the Inter-American Development Bank (IDB) and the 31st for the Inter-American Investment Corporation (IIC), April 7-10, 2016.
Chief Operating Officer of The Bahamas' Local Organizing Committee (LOC) Lynden Maycock said the myriad of talented and creative Bahamians on the roster provided attendees with a true taste of the artistic creativity the country possesses.
"The world saw what The Bahamas and Bahamians can do," Mr. Maycock said. "We are a talented group of people. We like to express ourselves in so many different ways — musically, in dance, etc."
Social Functions Director for the LOC, Toni Lewis explained that there were a number of social events planned during meetings, utilising various locations around the island and drawing attention to Bahamian culture. It was her team's responsibility to ensure that all social events were organized successfully and showcased anything Bahamian — from floral arrangements to products to entertainment.
"The Bahamas has a lot to offer," Ms. Lewis said. "We have island flavour."Locales such as Government House, the Lyford Cay Club, the Baha Mar Convention Centre and the Atlantis Resort were used for optimum effect.
"It was very important to showcase The Bahamas just so that people can get a taste, the feel and the look of what we really have to offer," Ms. Lewis said. "We have beautiful people, we have warm sunshine, we have great food and we are basically people who like to help; and that was exactly what we did.
"The IDB group got the 'crème de la crème' of Bahamian cultural performers — individuals as well as groups," Ray Munnings, Sr. of The Munnings Group (TMG) said. "It really was very exciting and a lot of knowledge (concerning Bahamian culture) was expounded to the (IDB-IIC) group."
According to Wendy Munnings of TMG, acts performing throughout the meetings included the Royal Bahamas Police Force Pop Band, the Bahamas National Youth Choir, Ambassah, rake-n-scrape performances, Tingum Dem and other musical acts, as well as limbo and fire dancers and a Junkanoo performance at various venues around the island. Fashion designer David Rolle presented his creations in a fashion show as part of a signature event.
As a way to encourage new performers, a number of young acts also had an opportunity to shine. Raphael Munnings II of TMG said that it was a great experience for young artists to take the stage at an event with the potential of future international exposure.
"This is the world that is coming to The Bahamas; so this is an excellent experience for all artists to be a part of this," he said.
"We definitely wanted to make sure that everyone experiences our Bahamian culture, coming from the young and not-so-young," Mr. Raphael Munnings II added.
"In the Cultural Village, we had a taste of the islands," Mrs. Munnings added. She noted that there were presentations of Bahamian foods, rake-n-scrape, performances by The Firm, Scorch Conch and The Signature Band musical groups, and artists like Jamaal Rolle and native artisans to highlight their local handicraft.Ms. Lewis also stated that, as a Bahamian, she had a special feeling for what she did."We put our best foot forward and it was a spectacular display of Bahamian talent, like no other," Mr. Maycock said.