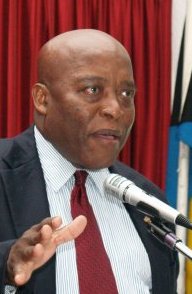 By OSWALD T. BROWN
Despite Prime Minister Hubert Ingraham's vindictive policies that have kept Grand Bahama's economy mired in the doldrums, the Bahamian management team at the Grand Bahama Port Authority (GBPA) has been doing an extraordinary job aesthetically transforming the downtown area of Freeport.
All around downtown Freeport, there are clear signs of the remarkable physical changes that have taken place since GBPA President Ian Rolle and his management team launched their downtown beautification programme a couple years ago.
None of this, however, appears to have softened Ingraham's heart to at least abandon his rigid decision to not sit down with Sir Jack Hayward, one of the principal owners of the GBPA, and the company's management team and discuss ways to revive Grand Bahama's moribund economy.
Ironically, by remaining stubborn in continuing his feud with Sir Jack, for purely personal reasons, Ingraham is totally undermining the commendable job being done by GBPA President Rolle, Vice President Ginger Moxey, Business Development Manager Derek Newbold and the other Bahamians who hold top positions at the GBPA.
One would have thought that the the leader of this country would have been proud to showcase the effectiveness of Bahamians in making such a solid contribution to the continued growth and development of Freeport.
As disheartened as they must be as a result of Ingraham's etched-in-granite decision to keep Grand Bahama's economy stagnant, the GBPA's Bahamian management team has not allowed his questionable behavior to prevent them from doing what they can to create some avenues to improve the island's economy. It was recently revealed that the MSC Poesia, a cruise ship with a capacity for 3013 guest, will make a one-day stop at Freeport next week Saturday, January 7.
GBPA President Rolle noted that the visit by "the MSC Poesia is one of many projects we are working on to strengthen Grand Bahama's tourism sector."
"We are excited about this visit," Rolle said, adding: "It is a trial call, but our hope is that it will evolve into much more, and thereby creating opportunities for many individuals and businesses alike."
Certainly, this is the kind of good news that should encourage Prime Minister Ingraham to end his vendetta against Sir Jack and work with him and the GBPA Bahamian management team to get Grand Bahama's economy headed in the right direction leading to the restoration of Freeport's "Magic City" nickname.
Ingraham's bitterness towards Sir Jack and the GBPA became quite evident in December of 2009 when he refused to renew the work permit of Hannes Baback, the then chairman of the GBPA, who had been working hand-in-hand with the Bahamian management team to restore Freeport's economy to good health. That's been more than two years ago, and clearly, it makes no sense for Ingraham to still be harbouring a grudge against Sir Jack for whatever reason.
But it would seem as if this is one war Ingraham intends to continue waging. We saw an indication of this during the "mini rally" held by the FNM in Freeport a couple weeks ago for Ingraham to explain why High Rock MP Kenneth Russell was fired as Minister of Health.
At that meeting, Ingraham accused "the people" at the GBPA of being "too stubborn" and threatened to deal with them in 2015 when certain provisions of the Hawksbill Creek Agreement expires.
The big problem with that threat, however, is that Ingraham will not be in the position to carry it out because he will not be Prime Minister after the next general election.
A strong indication that Ingraham himself has accepted that this will be his fate is his decision to order his protégé Zhivargo Laing to abandon his Marco City constituency in Grand Bahama to run for Fort Charlotte in New Providence. Of course, Laing did not need too much encouragement to desert the residents of Marco City after surveys he conducted strongly indicated that he would be overwhelmingly defeated by PLP candidate Gregory Moss.
To be sure, as a result of the crippling policies imposed by Ingraham against Grand Bahama because of his feud with Sir Jack and his government's overall neglect of the island for the past four-plus years, there is a strong possibility that the PLP will win all five of the House of Assembly seats in Grand Bahama.
Surely, it's hard to see how voters in Grand Bahama can decide otherwise.