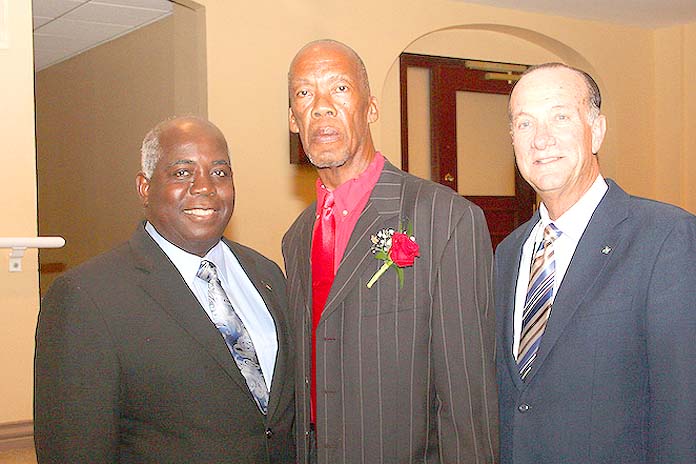 NASSAU, The Bahamas – Seventeen employees of the Ministry of Works and Urban Development were honored for their service to the Government of The Bahamas during a Retirement Luncheon Friday, December 2, at the British Colonial Hilton.
The Hon. Philip Davis, Deputy Prime Minister and Minister of Works and Urban Development, acknowledged and thanked the retirees who have served the Bahamian people "well."
"Thanks to you because through your good and gracious service, our Bahamas emerged from colonialism on firm footing and has grown from strength to strength.
You have given your youth to service of others, very often sacrificing time and energies that would have gone to building family," he remarked.
He encouraged the retirees to enter the new phase of life with boldness and the assurance of God's continuing sustenance.
He challenged them to continue to do all they can to change the world, to transmit values and to leave the earth better than they found it.
"Through Public Service you have not become wealthy by traditional standards; however, wealth unlikely showed up in kind. No money can open the doors for which your service now holds the key. I am certain that many of you can relate to going into an agency and getting assistance – not because of who you are, but because your mother or father was good to someone.
"Your kindness will follow you for the rest of your lives and extend to your children and theirs."
The honorees are: Ambrose Cargill, 45 years; Elizabeth Smith-Cox, 45 years; Joseph Archer, 42 years; Andre Thompson, 40 years; Rudolph Tinker, 40 years; Burket Dorsett, 39 years; Christopher Gilbert, 37 years; Anthony Humes, 34 years; Godfrey Bowe (posthumously) 30 years; Anthony Rolle, 29 years; Florence Darville, 26 years; Anville Sargent, 24 years; Henley Claridge, 23 years; Cyril Rolle, 20 years; Thelma Kerr, 19 years; Elvis Rolle, 18 years; Roosevelt Virgil, 17 years.
The theme for the 4th Annual Retirement Luncheon was "Celebrating the Journey, Stepping Out in Faith." The Royal Bahamas Defence Force Pop Band provided entertainment for the event.