Bad company does leave ya in jail!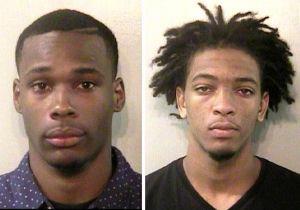 Bahamian track star kicked off University team after being arrested for gun incident with friend…
Bad company does leave ya in jail!
Tallahassee, Florida  – Our Bahamas Press correspondents in Florida have confirmed that a promising Bahamian track athlete has brought shame to his family and our nation by getting arrested for being involved in a firearm incident.
Our team in Tallahassee has been told that Stephen Newbold, who is attendee Florida State University, was arrested with his teammate Josh Mance, a 2012 Olympic medalist.
Mance was charged with resisting arrest and giving the cops a fake ID while Newbold was charged with resisting arrest and discharging a firearm in public.
We are relieved to know that no one was hurt. They were taken to the Leon County jail.
The school has suspended them from the men's track team.
Newbold is a 200-meter runner and sophomore who is said to be one of the strongest runners for the University!
He just won the ACC indoor Championships at a time of 20.90 seconds less than two weeks ago!
We obtained a statement from FSU athletics director Randy Spetman saying, "We are aware of the arrests and are working to gather all the facts. The students have been suspended from the team effective immediately. Whether they can return as student-athletes will be determined through our discipline policy and any legal proceedings."
BP on the ground in Tallahassee with another Bahamian student locked away behind bars.
Boy I tell ya! Why in the hell with all this hard time these young men want to shoot themselves in the foot and end their future careers.