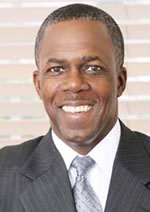 Bahamas Press can confirm the termination of, Barry Malcolm, as the Managing Director of Scotiabank Bahamas Ltd.
In what most Bankers saw as a political appointment in the first place has come to an end. We made contact with local officials of the bank here and we were referred to the Head Office in Toronto Canada.
A former Senior and well respected Banker told BP," I would usually be upset when a Bahamian Banker is fired, but it could not have happened to a nicer guy." Local staff are said to be jubilant as Mr. Malcolm was perceived to be a "Tyrant and too full of himself", a employee of the local head office exclaimed to BP.
Mr. Malcolm is a former FNM Senator and a former employee of the Grand Bahama Port Authority. He may have fallen in the "Foreignization" of the Country by Papa and his crew. Wow what a Country.
We Need Change!