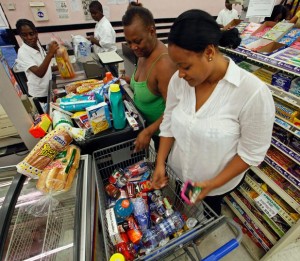 Nassau, Bahamas — The FNM "Poofter" who has given himself the name "Me, Myself and I", was seen doing his last minute shopping before the big storm named Irene at the SuperValue Food Store on the top of the hill on Mackey Street.
The 'wutless goodfa nuttin', potential candidate now wants to run in the St. Thomas More Constituency after ditching a seat in southern New Providence.
The big "Poofter" was collecting cream, sausage, bread and a few canned goods in the store.
Looking like a lost puppy with his new title on BP as the "Poofter", the potential candidate took one shopping bag out of the food store.
The cashier asked him, "So I hear you want run up in St. Thomas More – is that true?" The potential candidate replied, "Yes, I want to be your next MP. Can I get your support?"
The young girl replied, looking straight at the cashing machine, "Well I also hear you is the BIG "POOFTER" – is that true?
With loud suck teeth, the "Poofter" replied, "Now where you get that from?" By this time the entire line of busy hurricane shoppers was eaves dropping on the conversation, some looking cockeyed at the "Poofter".
The cashier then responded, "I hear you have a record of beating woman and that ya gat couple lil boys who look just like you and I bet right now in all this pending storm, you wouldn't carrying them a tin of corn beef."
By this time the big FNM 'Poofter' was sweating as if there was some emergency. Hoping the cashier would hurry, the hard-line FNM said not a word as he waited on his change.
The cashier then said, "I hope you lose, you and ya good fa nuttin party.
"Look how selfish you is, Hurricane coming and you coming out of this store with one shopping bag while the current MP for St. Thomas More is out making sure his constituents are sheltered before the storm."
By this time one shopper yelled, "AMEN!"
The Big 'Poofter' ran out of the store and, what was worse, he didn't give the packing boy a dime!

Bahamas Press warns the people of St. Thomas More; whenever the BIG 'POOFTER' comes their way, tell him go look after them children and THAT OTHER constituency he neglected!
They have no DAMN SHAME!