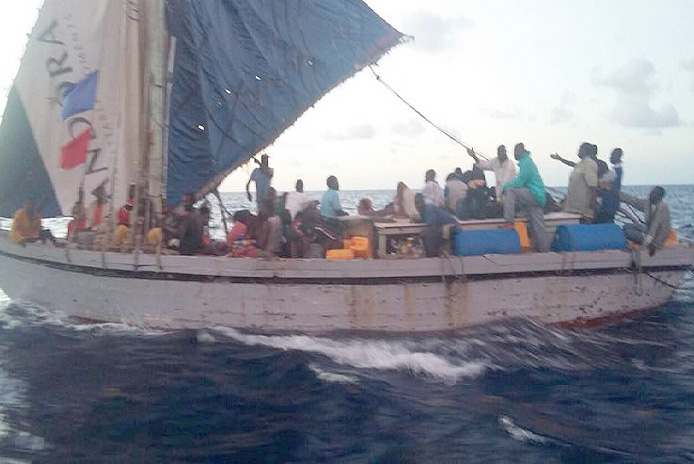 By Freeport News
FREEPORT BAHAMAS – Boat Captain, 24-year-old Andy Ruiz Igarza was convicted of Illegal Landing and Assisting with Illegal Embarkation on Thursday in the Freeport Magistrate Court.
As reported in this daily on Wednesday, a Cuban national with Permanent Residency in the United States was detained on Tuesday by local immigration officers on-board a vessel that was preparing to depart the Lucayan Marina with four Chinese nationals and two Ecuadorians – all of whom had out-stayed their time in The Bahamas as visitors.
Marina records showed that Igarza was the only person onboard the vessel when it came in to the Lucayan Marina that morning; however, at the time immigration officers questioned him he claimed he was simply coming on a fishing trip with a friend who had left him on-board the boat and that they had arrived the previous day.
All seven foreign nationals were arrested at the Lucayan Marina on Tuesday morning aboard the U.S. registered vessel and were hauled before the courts by Bahamas Immigration officers and charged yesterday.
The men appeared before Magistrate Rengin Johnson in Freeport Magistrate Court #3.
The four Chinese and two Ecuadorian males were charged with Overstaying and Illegal Embarkation.
They each pled guilty to both counts and were subsequently convicted.
Magistrate Johnson imposed the maximum fine of $3,300.00 each for both counts and in default they were to serve one year at The Bahamas Department of Correctional Services.
As it relates to the boat captain, particulars alleged that on Tuesday, May 3, 2016 Igarza was found at Freeport, Grand Bahama having landed from a place outside The Bahamas without the leave of an Immigration Officer.
Igarza pled guilty, was convicted and fined the maximum or in default serve three months at The Bahamas Department of Correctional Services.
Igarza was also charged with Assisting in Illegal Embarkation.
The particulars alleged that on Tuesday, May 3, 2016 he was found at Freeport, Grand Bahama making preparatory steps to assist illegal passengers, Leonardo Zuniga and Manuel Plasencia, Ecuadorian nationals and Yulia Huang, Jin Sheng Zhao, Zhao Zhang and Wei Wang, Chinese nationals, to depart The Bahamas for a destination outside The Bahamas, knowing that they were not in possession of any visa or other document entitling them to enter the country for which the vessel was destined.
Igarza pled guilty as charged and Magistrate Johnson convicted him and imposed a fine of $30,000.00, which constituted $5,000.00 in respect of each person he attempted in assisting to smuggle to the U.S. In default of paying the imposed fine, Igarza would serve the alternative of one-year imprisonment at the Bahamas Department of Correctional Services.
The vessel, which was operated by Igarza, was ordered confiscated to the custody of the Bahamas Immigration Department. All persons convicted were ordered to pay their fines forthwith.
"The Department of Immigration will continue to relentlessly pursue all such matters pertaining to breaches of the Immigration Laws and will prosecute all those who are caught in offenses of Illegal Embarkation or Assisting in Illegal Embarkation. The penalty for anyone found Assisting in Illegal Embarkation is a fine of $5,000.00 and a prison term of two years in respect of each person; however in Igarza's case, Magistrate Johnson used her discretion to only order him one-year imprisonment.
"The Immigration Department thanks the public for their assistance in alerting us of suspicious illegal activities relative to human smuggling and encourages the Bahamian public to continue doing so," stated Grade One Immigration Officer Napthali Cooper after the fines were delivered.