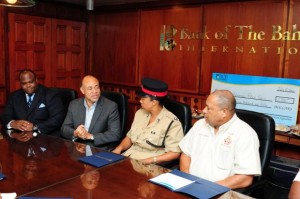 More than 2,000 young people attending the Royal Bahamas Police Force (RBPF) Summer Youth Camps will dine on the generosity of Bank of The Bahamas. The donation — gifts cards for a summer's lunches and snacks from Phil's Food Services — was made during a presentation today at BOB's head office with representatives of all nine summer youth camps throughout New Providence.
"We're extremely grateful to have the support of Bank of The Bahamas, especially since the program has been extended from four weeks to six weeks this year," said camp coordinator Inspector Chrislyn Skippings. "Our goal this year is to provide positive activities in keeping with our POLICE 2012 policing plan and the bank's donation will help sustain the programs we're currently implementing for the children."
This is the third year BOB has supported the summer youth camps that help students gain respect for themselves and others through well-structured activities which demonstrate the rewards of hard work and dedication. This year's sessions in neighbourhoods throughout New Providence kicked off on July 2 with a march to Police Headquarters where more than 2,000 participants were divided into their various camps, based primarily on the police division in which they live. Each camp location averages 220 participants and operates 9am to 2pm on weekdays. Some 320 youngsters are enrolled in Central Division.
Free for all participants, the RBPF Summer Youth Camp is open to boys and girls between the ages of 8 to 17 and focuses on spiritual, cultural, educational, sports and community development. Participants attend field trips, enjoy art and crafts, sports and community outreach and learn about Bahamian history, the environment, first aid, crime prevention, gang violence and conflict resolution.
The summer camp's rich history began in 1993 when Police Commissioner Bonamy and Supt. Allerdyce Stachan gave birth to the concept of cops helping kids helping communities.
The RBPF will feature a talent extravaganza at the Performing Arts Center on August 3 to showcase what the participants have learned throughout the summer. The camp concludes on August 10.
"We are very proud to support the Royal Bahamas Police Force summer youth camps once again and for the first time to support all nine divisions," said Vaughn Delaney, Deputy Managing Director. "These camps provide healthy, wholesome activities with good role models for thousands of young people, many of whom may have been idle with little to do this summer. We know, too, that a lot of volunteer time goes into this effort and it is all in keeping with the bank's commitment to assist where we can to support national development through supporting youth, education and law enforcement in creating and maintaining a real sense of community."
According to Inspector Chrislyn Skippings, the bank's contribution is making an important difference.
"For some of these young people, the meal they get at camp is the only hot meal of the day. In fact, we had a call one day from a mom who said her child could not make it to camp that day, but would it be possible to pick up her food? We don't realise how much this means to many people and we are really grateful to Bank of The Bahamas."