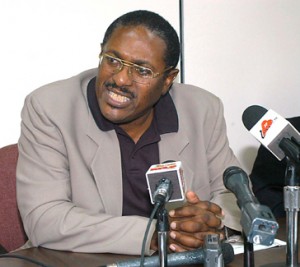 Remarks By Bradley B Roberts
National Chair/Progressive Liberal Party
PLP Rally Long Island
December 15, 2011
Ladies and Gentlemen, I am delighted to be here in Long Island which has been described as the most scenic island in the Bahamas to lend my full support to the candidacy of Alex Storr whose roots run deep in the rich soil of Long Island. Alex is also blessed to have a very strong family connection to Ragged Island.
At the request of friends here on Long Island, I recall going to bat for and on behalf of the vast majority of decent and hardworking Long Islanders in the House of Assembly leading up to the 2002 General Elections to rid these Islands of a leading drug man. In the process I was accused by Hubert Ingraham of being too open and dramatic with my disclosure of the now infamous Long Island Dossier. Hubert told me that loose lips sink ships. The PLP was delighted to have played a meaningful role in restoring normalcy to Long Island.
I am here tonight to invite Long Islanders to abandon the sinking ship of Hubert Ingraham and to come on board the SS PLP captained by Perry Gladstone Christie. It was under Christie's Leadership that portable water came to Deadman's Cay, an important infrastructure that the FNM despite their many years of promise after promises failed to deliver on. The FNM put the pipes in the ground where they laid for years without water. Millions had to be spent to replace lateral connections because they were allowed to decay from lack of use. Christie's Government had worked out a formula with Long Islanders to extend the water mains just before we lost in 2007.
The FNM promised to extend the water mains here on Long Island and after almost five years is once again back to the old game of promises. Long Island, you must have learnt by now that a promise is a comfort to a fool. The FNM has been borrowing hundreds of millions of dollars for Roads and Buildings but have failed to place the important interests of Bahamians first. They have certainly taken you for granted for too long and your time will come shortly to show them the door.
I have said over and repeatedly that man has lived for thousands of years without Electricity, without Telephone but has not been able to live without water.
My brothers and sisters, Long Island has been in the FNM family for many years until Long Islanders woke up and realized that they were being taken for granted and decided to reject and threw James S. Knowles overboard and embraced the then Independent Larry Cartwright. He was an aggressive Member of Parliament under the tenure of Perry Christie until he went into the bosom of the FNM in 2007. Larry Cartwright fought and achieved much for Long Island as an independent MP. Under Hubert Ingraham and the FNM Larry lost his drive and fight for the People of Long Island. What Larry did do was to lay claim to the plans and PLP negotiated funding for infrastructure upgrades in Ragged Island.
Ladies and Gentlemen, on 24th March 1999 some 12 years ago I laid on the table of the House a letter sent to me by the Officers and Members of the Deadman's Cay Action Force that I wish to share with you this evening.
It is amazing that many of the conditions the Action Force complained about 12 years ago still remain unaddressed today. Here we are in 2011 and conditions and the lack of Jobs are worst now than they were in 1999. Your MP Larry Cartwright has failed Long Island as the promised opportunities are nowhere to be found. Larry Cartwright has been talking about Agriculture but for the most part nothing has changed. Talking and talking and going around in circles as Hubert Ingraham and the FNM do not believe in Agriculture. Protections for farmers have been substantially reduced. Larry Cartwright's colleague Edison Key, the MP for South Abaco and the de-facto Minister of Agriculture made it very clear just recently when he said: The agriculture sector is "grossly under funded" and Edison went on to charge that the FNM government is not serious enough about food security.
Ladies and Gentlemen, the incoming PLP government headed by Perry Christie has developed a viable progressive and exciting program for agriculture and fishing.
Ladies and Gentlemen, Frank Smith the PLP MP for St Thomas More and nephew of Philip Smith the former Member for North Long Island and San Salvador disclosed in the House of Assembly on June 8th 2009 that the Department of Agriculture began with 37 people shortly after Independence in 1973 and has now increased that number to about 400 persons. During the period from 1973 to 2009, some 36 years later, agricultural production in the Bahamas has decreased to one tenth of what it once was. The staff at the Department of Agriculture increased by 363 employees and agriculture production decreased to one tenth of what it was in 1973.
As it relates to our infrastructure, the PLP intends to pick up where it left off in 2007 and deliver fresh potable water to the entire island; from Gordon's to Seymour's.
As part of our jobs creation and empowerment proposals, the PLP will undertake to repair your roads, alleviate the flooding in low lying areas with proper drainage systems, refurbish your docks and provide proper lighting. This will create much needed jobs and stimulate your local economy
Further, Long Island's construction industry stands to benefit immensely from our Home Sweet Home proposal where crown land will be made available to Bahamians to construct second homes on Long Island within 18 months of the property's conveyance.
With our Bahamians first initiatives, we propose to amend the fly fishing regulations and the Hotel Encouragement Act to increase Bahamian participation and improve Government revenue.
Clearly we have a leadership crisis in our Bahamaland. Larry Cartwright has been a miserable failure. Long Island is in crisis and needs new blood.
Alex Storr in my honest and considered opinion embodies the strength and character required to bring bold and fresh leadership to Long Island and Ragged Island. He will play an important role in the next PLP administration and you can count on Alex to get things done on your behalf. Alex Storr is a successful Family man; a successful business man; a proven political leader who has served with distinction as Deputy National Chairman of the Progressive Liberal Party. His integrity is unquestioned and he is the consummate team player.
Ladies and gentlemen, the Prime Minister has said on several occasions that general elections are very near so I encourage all of you who have not yet registered to do so as a matter of urgency; the voters' register will be closed very shortly. You cannot bring about the change you desire in Long Island if you are not registered.
I encourage all of you to assist in Alex's campaign, going door-to-door taking the PLP's message. In the Bahamas, elections are won on the ground – in the homes of the voters. We have a good candidate with a good message who is part of a new generation of
leaders being presented by the PLP.
I urge all of you the good people of Long Island to cast your vote for Alex Storr, the man with the plan to take this Constituency to a new level. PLP all the way and may Almighty God continue to bless the Commonwealth of The Bahamas.