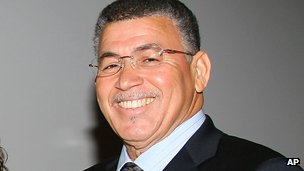 Cayman Islands — The leader of the Cayman Islands was arrested Tuesday on suspicion of corruption, officials in the British Caribbean territory said.
Premier McKeeva Bush was arrested at his home in the West Bay section of Grand Cayman Island by officers from the financial unit of the Royal Cayman Islands Police Service, said spokeswoman Janet Dougall.
The 57-year-old Bush was detained "in connection with a number of ongoing police investigations," Dougall said in a statement. Those include(probes into suspected theft related to misuse of a government credit card and breach of trust for the alleged importation of unspecified explosive substances without valid permits.
Authorities did not provide any details about the allegations. "It would be inappropriate for the RCIPS to make any further comment in relation to these matters at this time," the statement said. "Further updates will be made available in due course."
Bush was elected premier in May 2009 when his United Democratic Party won nine spots in the 15-seat Legislative Assembly, defeating the People's Progressive Movement. Bush had created the UDP in 2000 while serving as tourism, environment and transport minister.
The premier, who also is the territory's finance minister, is the longest serving member of the Legislative Assembly, having first been elected in 1984.
Bush has been the target of several police investigations prior to his arrest.
In late 2010, police began investigating allegations of financial irregularities. Then in April this year, police said that they had opened another investigation against Bush.