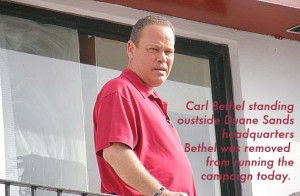 CARL BETHEL TO BE EVICTED FROM HEADQUARTERS?
Nassau, Bahamas — Early reports reaching our newsroom reveal the stunning reality BP and most Bahamians knew all the time.
This is the reality that Carl Bethel and the WUTLESS FNM have avoided for four and a half years.
Today reality gave the FNM chairman a bitch slap in his face as the legal and legitimate new owners asked him to leave their property.
The eviction of the FNM from its Seabreeze headquarters symbolizes a defining moment and a taste of sobriety as to how badly Hubert Ingraham has wrecked the Bahamian economy.
We are told by the new legal and legitimate owners that for the time being they will use the former headquarters as a soup house to assist other Bahamians who have been hurt at the careless hands of Hubert Ingraham.
BP will keep you posted..
We report Yinner Decide!