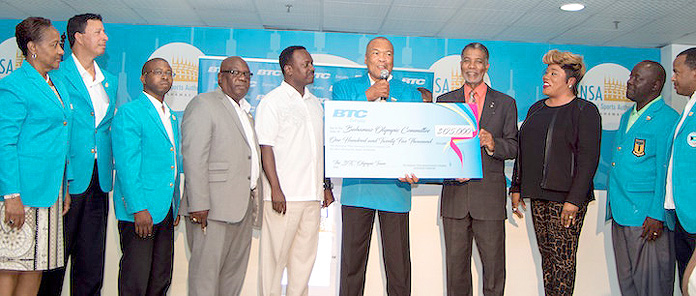 Nassau, New Providence – The Bahamas Olympic Committee today named the national team travelling to represent the country at the Summer Olympic Games in Rio de Janeiro, Brazil. The team's top sponsor since the 2012 London Olympics is The Bahamas Telecommunications Company (BTC). "We are extremely grateful to BTC for again stepping forward to support Bahamian international sport", said Olympic Committee Secretary General Romell Knowles. "The athletes are trained and approaching their high peak of fitness and readiness just in time to compete at their best."
The team is led by returning Chef de Mission Roy Colebrook, also a Vice President of the Olympic Committee. Team Manager is Ralph McKinney.
Bahamas Olympic Committee President Wellington Miller noted that "This BTC Bahamas Rio 2016 team is one of the finest the country has ever fielded and we have high hopes for a number of outstanding performances".
Mr. Knowles continued: "The leading corporate sponsor had demonstrated year after year its commitment to nation building, be it through sports, culture and community affairs.
"The President and CEO of BTC Mr. Leon Williams has proven time and again his company's commitment to be 'best in class' through its product offering and services. Mr. Williams, a dedicated Bahamian, can be seen working in and with communities and or Federations and Associations such as The Bahamas Olympic Committee."
The team comprises leading athletes in Athletics, Swimming and Rowing, together with trainers and coaches.
THOSE CHOSEN:
1107213 BARRY Trevor 14 Jun 1983 M AA01 Men's High Jump
1215430 GAITHER Tynia 16 Mar 1993 F AA01 Women's 100m & 200m
1215494 STRACHAN Anthonique 22 Aug 1993 F AA01 Women's 200m
1215500 FERGUSON Sheniqua 24 Nov 1989 F AA01 Women's 200m
1215507 MILLER Shaunae 15 Apr 1994 F AA01 Women's 100m, 200m, 400m
1215520 STUART Bianca 17 May 1988 F AA01 Women's Long Jump
1215659 CHARLTON Devynne 26 Nov 1995 F AA01 Women's 100m Hurdles
1215783 HART Shavez 06 Sep 1992 M AA01 Men's 100m & 200m
1215790 PINDER Demetrius 13 Feb 1989 M AA01 Men's 200m, 4X400m R
1216198 BROWN Chris 15 Oct 1978 M AA01 Men's 4 x 400m, 4X400m R
1216226 MATHIEU Michael 24 Jun 1984 M AA01 Men's 4 x 400m R
1216230 WILSON Jamal 01 Sep 1988 M AA01 Men's High Jump
1216283 THOMAS Donald 10 Jul 1984 M AA01 Men's High Jump
1216296 SANDS Leevan 16 Aug 1981 M AA01 Men's Triple Jump
1216719 NEWBOLD Stephen 05 Aug 1994 M AA01 Men's 4 x 400m R
1217329 GIBSON Jeffery 15 Aug 1990 M AA01 Men's 400m Hurdles
1223744 GRIFFITH Adrian 11 Nov 1984 M AA01 Men's 100m
1223752 ROLLE Jamial 16 Aug 1980 M AA01 Men's 100m
1224030 COLLIE-MINNS Latario 10 Mar 1994 M AA01 Men's Triple Jump
1224071 RUSSELL Alonzo 08 Feb 1992 M AA01 Men's 4 x 400m R, Men's 400m
1229722 BROWN Adanaca 23 Oct 1993 F AA01 Women's 100m Hurdles
1229739 GARDINER Steven 12 Sep 1995 M AA01 Men's 4 x 400m R, Men's 400m
1231348 SMITH Teray 28 Sep 1994 M AA01 Men's 200m
1323144 SEYMOUR Pedrya 29 May 1995 F AA01 Women's 100m Hurdles
1230202 MORLEY Emily 06 Dec 1993 F AA01 Women's Single Sculls
1096403 VANDERPOOL-WALLACE Arianna 04 Mar 1990 F AA01 Women's 100m Butterfly, 100m and 50m Freestyle
1096490 EVANS Joanna 25 Jul 1997 F AA01 Women's 200m, 400m & 800m Freestyle
1096492 TYNES Dustin 07 Mar 1996 M AA01 Men's 100m Breaststroke