Olympic Quartet's Achievement Celebrated by Prime Minister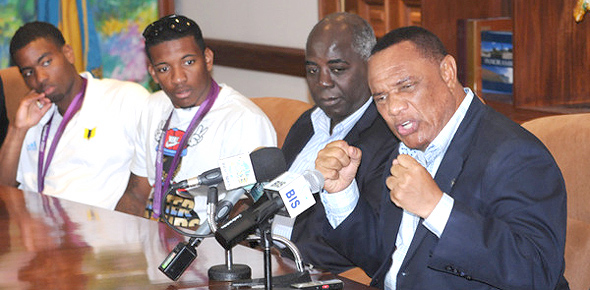 NASSAU, The Bahamas – The Government is committed to scouting for potentially great athletes in the country and preparing them for the 2016 Olympics and other future sporting events, the Prime Minister the Rt. Hon. Perry Christie said.
He made the statement during a press conference on the Bahamas men's 4×4 metre relay team gold medal at the 2012 London Olympics. The quartet of Ramon Miller, Chris Brown, Demetrius Pinder, and Michael Mathieu paid a Courtesy Call on the Prime Minister at his Cable Beach office on Tuesday, August 14, 2012.
The Prime Minister said in hosting the press conference, he hoped that the honour that is due to the Olympic champions, is understood by all.
He told the gold medalists that the entire Bahamas having gone through the disappointments leading up to the relay, depended on them and was uplifted by the experience of them winning.
"The grit and determination was evident in that race," the Prime Minister said.
"When we look at you and see what you have done and we see the achievements of the Golden Girls (gold in the 4×1 metre relay at the 2000 Olympics), you have demonstrated that it can happen."
The Prime Minister also noted the accomplishments of Grenada's Kirani James, the Olympic 400 metres champion and that country's' first ever medal, and that of Trinidad and Tobago's Keshorn Walcott who won the gold medal in the javelin are both 19-year-olds. This, he said, demonstrated that there are gifted young athletes in the Caribbean and in The Bahamas who must be encouraged in the quest for excellence.
In this vein, the Prime Minister said that the Government, through the Ministry of Sports would dedicate resources to ensure that centres of excellence are created to develop the athletic talents of youth in the country. And that in four year's time a new cadre of athletes will be ready to compete at the 2016 Olympics in Brasil.
He also admonished the head of the Bahamas Olympic Association to also scout for athletes from amongst the country's promising youth and train them into becoming world-class athletes.
The Prime Minister told the Olympic champions that they are examples in their own right. And, when there are heroes in a country there are songs, poetry and paintings to reflect their accomplishments.
"The young people need to see you as much as possible throughout The Bahamas where we are going to create these centres of excellence," he said.
Regarding the reward for their accomplishments, the Prime Minister said the proper research is still being done. He said when the "Golden Girls" won the gold medal at the 2000 Sydney Olympics in the women's 4x1m relay, they were each award crown land in the western area of New Providence and $20,000.