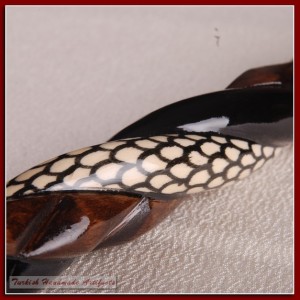 A guest stopping at the checkpoint in LPIA today was advised to slowly open her bags as officials registered a strange looking instrument in her bag.
The Canadian woman had pack away into her long carry bag the wooden carved image of 4ft Cobra as she attempted to carry it on the plane.
Agents at the airport made a break for the doors when the woman began pulling out the items in her bag, which included the heavy stick.
Holding the wooden snake by the head the woman proudly told baggage inspectors, "Yall like my new gift from the Bahamas? I'm taking it home with me."
An baggage inspector clinching his fists shaking asked the guest, "But…where did you get this from?" as he steered into the black eyes of the carved wood.
The woman replied, "From your world famous Staw Market at a fire sale price."
The attendants looked nervously at the woman and in unison responded, "Da Straw Market?" Well what the hell is this?
"Who is it so deep in the Market could be so satanic, to sell guests a wooden snake?" one of the attendants whispered.
We at BP could only roll our eyes upwards to heaven when we saw the carved Cobra.
Bahamas Press is calling on the OUTGOING Government to find seven righteous preachers if they could, to pray for their new Staw Market before the millions invested in the project find itself up in flames, again.
When you see what is coming out of the Market and hear what is going on inside the facility, it is no wonder the place tends to get burnt to the ground. Perhaps it is an act of GOD!
Drugs in the Market! Prostitution in the Market and now they gat OBEAH on sale? WHAT IS THIS? Snake selling in the Straw Market?
WE NEED CHANGE!