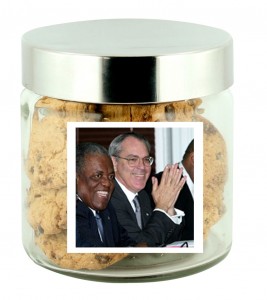 Nassau, Bahamas — BP again strongly brings to the attention of the Bahamian public a further example of how desperate PM Hubert Ingraham and the FNM are and the extent to which they are going to attempt to win the General Elections.
A road contract was signed a few days ago with Symonette Enterprises Ltd to repave the terrible roads on Inagua in the amount of $3,852,092.
The people of Inagua were shocked and surprised that a Government delegation headed by PM Hubert Ingraham and Neko Grant, along with the Blue Hills MP Sidney Collie, who was rejected by the voters of Blue Hills and who is now FNM candidate for MICAL, flew in for about two hours for a contract signing for works that were already in progress for a week and well underway.
Inagua residents strongly question why the FNM government is wasting precious public funds on a meaningless public relations exercise. The people of Inagua were disgusted and unimpressed.
BP has received many reports of persons being employed by designated FNM operatives in New Providence, in Grand Bahamas and in the Family Islands.
They target unemployed persons with job offers in return for their votes in the election.
Our sources have drawn to our attention that this so-called $25 million Jobs Readiness Program was to have run from July 1st 2011 to June 20th 2012.
However, the program has only recently been extended to a number of Family Islands where the FNM support is very weak.
In the vast majority of cases the selected young and not so young persons are not being exposed to any job training whatsoever and, in many cases, have never reported to work and are being paid for doing absolutely nothing.
Information received strongly suggests that sources within the Bahamas Electricity Corp. confirm that some six persons were assigned to BEC Matthew Town Inagua office by Shane Wilson who was hired by Local Government to oversee the Inagua Job Readiness Program.
Our sources also told us that BEC refused to hire them for the Jobs Program as there was nothing for the six persons to do in that small community.
Notwithstanding these six persons, whose initials are AS, KN, FJ, SD and SP, were paid $807.00 each for the month by Local Administrator Roderick Bowe despite the fact that they rendered not a minute of service. One of the six persons is married to a Bahamian and was recently granted citizenship.
This Jobs Readiness Program is a Massive Giveaway of Public Funds without any transfer of training and is just like the $100,000,000 Million rip off of the New Providence Road Program by the Deputy Prime Minister's Bahamas Hotmix Company & Jose Cartellone.