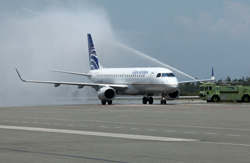 Nassau, Bahamas — Copa Airlines posted better load factors on its flights into Nassau than any other airline in June and July, recently compiled data shows.
Data from the Ministry of Tourism & Aviation confirmed that Copa Airlines flights were 95 percent full in June and 86 percent full in July.  The load factors were the best for flights landing in Nassau.  The average load factor of all flights to Nassau was 72.3% in June and 77.6% in July.
Copa's air service facilitated large increases in the numbers of people visiting Nassau from several countries. It accounted for a 51% increase of visitors from Argentina, 43% from Brazil, 106% from Colombia and 111% from Panama.  Furthermore, Copa passengers responding to a Ministry of Tourism survey in August gave officials additional information that is being used to analyze the level of satisfaction among Latin American guests.
Of the passengers surveyed, 68% said they would definitely recommend The Bahamas to friends and relatives. Another 10 percent said they would probably recommend.  The majority of the respondents (71%) were in The Bahamas on vacation while some (12%) were on honeymoon.  Meanwhile, beaches (81%) were the biggest draw to The Bahamas. Other attractions were the landscape (54%), the ocean (49%), the relaxation (49%) and the safety (39%).
A total of 42% of the surveyed passengers disliked that shops closed too early.  Other dislikes included:
Expansive items – 24%
Limited variety of shops – 20%
Boring/Not enough to do – 12%
Unfriendly people/Pushy salespersons – 10%