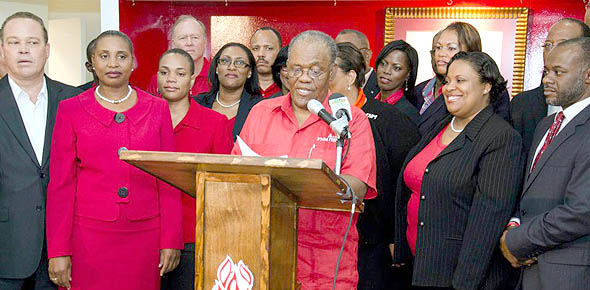 ELECTIONS COULD BE THIS FEBRUARY!!!
Nassau, Bahamas — An alert to senior officers of the Royal Bahamas Police force tell us the Country is now on High ALERT for the General Elections as all officers are now on NOTICE that there will be no more leave of absence or vacation after the date of January 23rd, 2012.
Sources deep in the OPM have advised BP, that the notice is now being floated to all within the Ministry of National Security.
The move signals that the country is on the brink of a General Election! ANY DAY NOW PAPA could RING THE BELL! Readers should remember Papa said in the House, that after the notice of the issuing of voters card, the public will only have two weeks left.
Bahamas Press has also learnt a note has been handed to all senior FNMs, who were to travel to Trinidad for Carnival 2012 [Feb. 16th – 22nd], to boycott the event this year as they are needed in the Bahamas!
And if that isn't enough, Bahamas Press has just learnt the opening of the National Stadium is slated for February 11th, 2011. A major event is being planned for that same stadium for Feb. 12th.
Sources in Nassau and on Grand Bahama tell us this Sunday am FNM Mass Rally on Grand Bahama is expected to deliver a major announcement to the country. We are told ALL MAJOR RADIO NETWORKS SHALL CARRY the Grand Bahama event LIVE across the country!
We report YINNER DECIDE!