Abaco — Marsh Harbour is home to the newest location in BTC's retail experience.  The new store had its official ribbon cutting and opening ceremony on Saturday November 17th giving Abaco customers access to a much larger location with a sophisticated, bright new look and feel.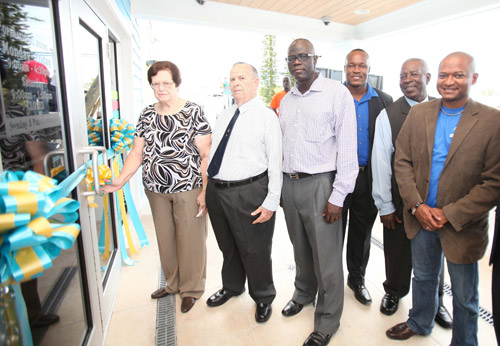 Customers braved inclement weather earlier in the day, lining up as early as 7am, to get their hands on an iPhone 4s, Blackberry Jazz and Samsung Y's . Doing the honors of cutting the ribbon and declaring the store officially open were BTC retirees, Marilyn Albury and Warren Albury. The Alburys were BTC employees for several decades and worked on a number of the family islands when there was limited infrastructure and only telegraph services, in some instances.
Located on Don MaKay Boulevard, the Marsh Harbour store is the second new BTC Retail Center to open in Abaco- the first being Treasure Cay, over the summer.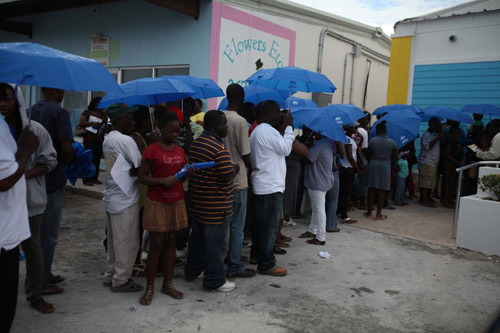 With the nation's 4G network expansions set to be completed in December, the new store is the latest in a string of store relocations, rebuilds and re-openings around the country, beginning with the New Providence Mall at Marathon location back in December 2011.  The aim is to offer customers a better retail experience and easier access to the company's expanding list of phones and services.
The Marsh Harbour store is also the first BTC retail location with a new color coded design that will allow customers to navigate stores easier.  "We are redefining the retail footprint of BTC" said Gershan Major, VP of Sales, Channels & Business Development.
"The new layout will provide BTC customers with a more engaging retail experience. Each area is color coded. The landline services area is painted in a vibrant lime green, turquoise is for mobile services and fuchsia is for internet services. This will allow easier navigation and customers know exactly where to go for what they want" said Major.
Like other BTC locations, Marsh Harbour's interior will also be defined by its original artwork, a wall-length mural depicting a window opening to a vibrant view of Abaco's shore, which was created by, Bahamian Allen Wallace.
"Along with Marsh Harbour's new design, we wanted to pay homage to Bahamian culture and Abaco's unique landscape through the location's artwork" said Jerome Sawyer, Senior Manager of BTC Public Relations.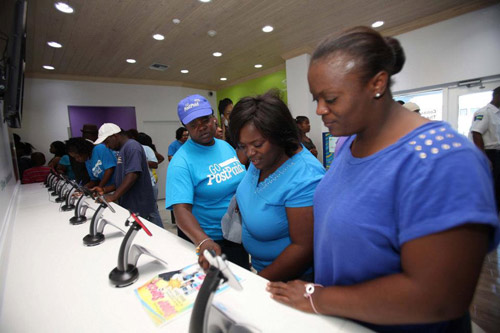 The process of converting the out dated bill payment and service centers into cheerful, interactive spaces, is a process that began across the country last year. According to Bob Gill, BTC Retail Lead, who has served as project manager for the company's entire retail expansion, $300,000+ was invested in the construction of the new location.  "This store took about four months to complete. It was a completely new location, and everything is brand new" said Gill. Closely following Marsh Harbour's opening will be the unveiling of the new Carmichael Road location, which is scheduled to open in mid-December.
BTC also hopes to expand with a number of franchise locations, following the opening of its first Franchise Store in Grand Bahama, last month. "In the next year or so, we hope to have upwards of 50 franchise locations around the country where customers will be able to enjoy all of the products and services of other BTC locations" said Tellis Symonette, Sr. VP of Commercial & Family Islands.