Former Banker replaces Charlie – Cash pledges to be active and engaged on multiple levels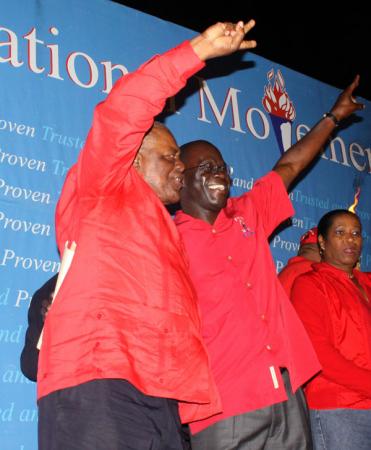 FNM STATEMENT: The Free National Movement is pleased to announce that in accordance with Article 28 of its National Party Constitution, Darron Cash, one of two Deputy Chairmen, assumed responsibilities for executing all duties and responsibilities of the National Chairman following the untimely death of former Chairman Charles Maynard.
At the monthly meeting of the FNM's Central Council, on Thursday,  August 30, the Council affirmed its support for Mr. Cash as Acting Chairman.
The Central Council, which is the Party's highest authority outside a National Convention, also confirmed its commitment to holding a substantive election for the position of Chairman at the earliest opportunity following the by-election in North Abaco.
The Party's constitution confirms that as Acting Chairman, Mr. Cash "shall have and exercise" all powers of the Chairman."
The Acting Chairman has indicated that he will move with enthusiasm and clarity of purpose to continue implementation of the core strategies and programmes outlined by Mr. Maynard and the rest of the leadership team.
According to the Acting Chairman, "Delegates to our Party's special convention in May this year elected a talented, diverse and enthusiastic team of officers. Our mandate was to regroup after the general election, remain connected to our loyal supporters, and reconnect with the supporters we lost. Critical to achieving those objectives is our sustained commitment to strengthening our party at every level, and building upon the strong record of accomplishments of the Ingraham FNM Government. It goes without saying that we will continue to keep the PLP Government accountable. We will support them where they do the right thing, and oppose them enthusiastically when their policies are ill conceived or threaten to cause harm."
With respect to his planned level of activity and style of leadership, Mr. Cash states that "There are many officers and supporters who want to be actively involved in the process of making our Party better. I intend to move with dispatch to engage as many of them as possible—in as many meaningful ways as possible. In that regard, I plan to ensure that every component of our party machinery—that fall within the purview of the National Chairman—is in gear at all times. We will be active and engaged on multiple levels, and you can take that to the bank."
Mr. Cash served in the Senate and on the Party's Executive Committee from 1997-2002; was the FNM's candidate for Carmichael in the last general elections and brings a solid history of service in the Party's leadership. Mr. Cash is also a past National Treasurer and Party Vice Chairman.