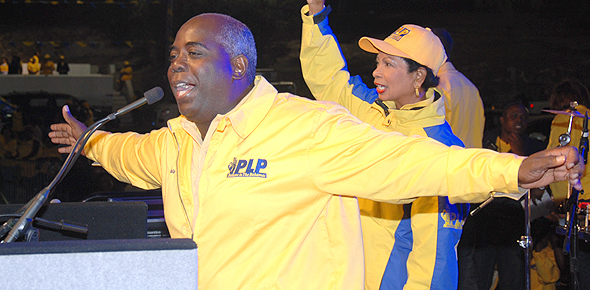 The following is an excerpt of Brave Davis during the PLP Mass Rally at Clifford Park last night.
Good Evening Bahamas!
Good Evening PLP GOLD RUSH!
Good Evening Cat Island, Rum Cay and San Salvador –
Mr. Party Leader and Mrs. Christie. To my wife Anne Marie. To our mother of the Nation – Dame Marguerite Pinding.
To our National Chairman Mr. Roberts, and all our dynamic team of candidates.
TEAM GOLD RUSH!
The END IS NEAR! We are out the gate!
There are 24 four days left before Hubert Ingraham and his FNM Government is fired.
They have told us we need not apply! But they now apply to us Bahamians to vote for them.
They treat us like potcakes!
They only know us when they need us!
Have you noticed how they fight unions in this country?
Have you noticed how they have put you behind the line?
I listened to Papa Clown's threat to Government workers last evening.
He said and I quote: "I shall remember you who stayed and I wouldn't forget you who went!"
This is what he told Customs and Immigration workers now on a lawful strike.
A few weeks ago he was on national television threatening to fire those same workers, and here he is again threatening and bullying.
Tonight I say to Papa Clown: No threats! No intimidation tactics! No bully antics and no pressure from anyone acting like a dictator shall shake the will and right of a Free People!
And thank God you will not be around to carry out your threats.
Whether you believe it or not this is a Democratic Country – Not the household of Hubert Ingraham.
A cold-hearted and mean-spirited man, and the Bahamian people are now counting down the days when they will fire you!
Bahamas – They are desperate people.
They know that the end of their gravy train is in sight!
They are desperate because they know they will have not be able to give 2.2 million dollars to Papa Clown's friends to throw sand on a beach.
They are desperate because they know they cannot build any more toilets for 300,000 dollars.
They are desperate because they know after the election they will not be able to pay more money to that contractor – who is also a close friend of Papa Clown – at Sandilands;
– More than 12 million dollars already paid to complete a building that was costing 7.1 million dollars, and was more than 60% finished before he was hired to finish it.
Today that building at Sandilands is still not completed.
And they are desperate because they know they cannot waste taxpayers' monies to the tune of 100 million dollars in cost overruns for roads.
–       Roads dig up over and over again only to put struggling small Bahamian companies out of business, and Bahamians out of work.
And while we are on the subject of contracts, I want you to look on these large screens.
I was in San Salvador today and take a look at what's happening. A road contract was issued for the island last week.
They signed a $587,523 contract for the repairs on the eve of an election.
But look who is a signatory to the contract?
The Johnny Come Lately.
What is the candidate for the FNM doing signing a government contract for over half a million dollars on the eve of an election?
Bahamas! May 7th is almost here – and they see the end is near!
Could you imagine five more years with Neko Grant and dig up roads?
Do you want five more years with Zhivargo 'Mona vie' Laing heaping more taxes on gas, licenses, food, school supplies and baby pampers?
Five more years of Tommy Turnquest and record-breaking crime?
Last year, we experienced the bloodiest year in our history.
To date – more than 490 persons have been murdered!
With over 305 persons on bail for murder! And to date we have had less than 25 convictions!
They put an end to Urban Renewal, but I promise you when we return there will be music once again in our communities.
They cancelled Witness Protection, and I promise you tonight, there will be no limits placed on protecting the lives of witnesses who come forward to do their civic duty.
They cancelled School Policing and allowed blood to flow in schoolyards. My commitment tonight to the students, mothers and fathers of the Bahamas is this:
Peace shall return!
They abandoned the Swift Justice Program, which brought together all stakeholders in the Criminal Justice System.
My commitment to you tonight is that when we are elected not long from now – Swift Justice shall return.
For we in the PLP believe in protecting Bahamians!
We believe in keeping playgrounds and classrooms safe for children.
We believe in strengthening communities and making them safe havens for families.
We in the PLP believe in you!
Our belief in Bahamians began long before creating the College of the Bahamas and BTVI.
We believed in Bahamians long before the creation of the Royal Bahamas Defense Force and the establishment of the National Insurance Board.
We believed in women long before our appointment of the first woman Deputy Prime Minister and Acting Prime Minister.
Our story of believing in the rights of Bahamians began long before Universal Suffrage, which is marked indelibly in the pages of our history that recorded fight for woman's right to vote!
We in the PLP believed in you long before we propelled BTC into a profitable cash cow and expanded its Bahamian workforce with training across the world.
We are the Party that believed in the stability of the economy of the Bahamas and established the Central Bank of the Bahamas to regulate commercial banks in the country.
We are the party that established the College of The Bahamas and soon to be University of The Bahamas to educate our people to world-class standards in order to support our national developmental goals.
And the FNM has the unmitigated gall and gumption to question the PLP's commitment to putting Bahamians first?
I say to you tonight…..THE DEVIL IS A LIAR.
And so I ask you Bahamas;
Come May 7th I ask you to support a PLP Government which has the record – a history – a legacy of believing in you.
I ask you to support the team that is ready to – create 10,000 immediate new jobs for young Bahamians.
I ask you to believe in the team that will implement the National Health Insurance Plan.
Are you ready to support the team that will fight crime and reduce violence?
Are you ready for a PLP government that will attract new investments?
Are you ready for a new 21st Century jobs programme?
Do you want a government that believes in Bahamians?
Do you want a government that will put Bahamians first?
Then come with us as we set a course to put Bahamians Back to Work!
Come with us as we bring young Bahamians into an era of prosperity and growth!
Come with us as we rebuild our nation and strengthen small businesses.
Come with us as we restore this economy and create new opportunities for our people.
Come with the PLP, as we BELIEVE IN THE BAHAMAS.
PLP….PLP…..PLP
Thank You, God Bless and Goodnight …
–
–END —