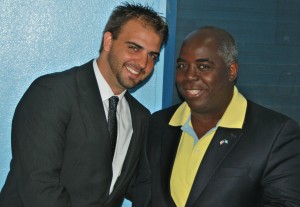 Governor's Harbour, Eleuthera — Energized by a powerful mega event in Grand Bahama on Friday, PLP deputy leader Philip Brave Davis flew to Eleuthera to join Team PLP for a Prayer Breakfast.
The morning event was held on Saturday at the Hotel Union Building in Governor's Harbour.
PLP candidates Damian Gomez and Clay Sweeting are running on the Party's ticket for the North and South Eleuthera seats.
His Grace Bishop Drexel Gomez also joined in at the event.
Davis brought warm on behalf of PLP Leader Perry Christie.
The deputy leader reminded Team Eleuthera that the country needs a government that will restore opportunity for the people in these surrounding islands.