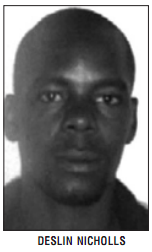 Bahamas Press is reporting another murder this morning around 7:30AM.
The incident occurred in the Key West Street area. Dead is 28-year-old, Deslin Nicholas, a resident of Fox Hill. Police following a shooting incident in the Fox Hill area back in May wanted Nicholas and published his photo in the press.
Now get this, when the gunman shot Nicholas this morning, he aimed directly for the head. The victim wore a bulletproof vest at the time.
Nicholas becomes the 262nd murdered victim in the country since 2009.
Traffic officials are also investigating an alleged hit and run in Andros. Residents in that island tell us a young man was knocked down and dragged by a drunk driver, in South Andros. According to sources, the body was left on the road for family members to move.
No official updates on this incident has been confirmed by police.