DEU OFFICERS CONFISCATE FIREARM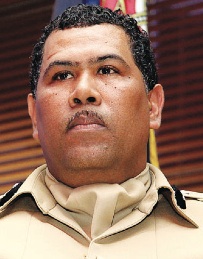 Police confiscated a high-powered weapon from bushes off St. Vincent Road on Tuesday.
According to police reports, around 6:30pm DEU Officers acting on information went to St. Vincent Road where they uncovered the high-powered weapon. No arrests were made.
Police investigation continues.
SELECTIVE ENFORCEMENT TEAM (SET) OFFICERS ARREST SECOND SUSPECT IN CONNECTION WITH RECENT MURDER
A 28-year old man of Key West is in police custody after he was arrested on Wednesday 22nd August 2012 by Officers of the RBPF Selective Enforcement Unit, for questioning reference to a recent murder.
Initial police reports indicate, that shortly after 1:30am, police acting on information received, arrested the suspect for a recent murder that occurred on Wednesday 8th August 2012 at East Street and Coconut Grove Ave.
Police has charged another suspect in connection with this murder.
POLICE ARREST SUSPECT MOMENTS AFTER ATTEMPTED ARMED ROBBERY
A 24-year old male of Life Buoy Street was arrested by police minutes after he along with another man attempted to rob a local businessman on Wednesday 22nd August 2012.
According to initial police reports, shortly after 4:00am the victim had just closed his local bar on Deveaux Street, when two men approached him and demanded cash. The two men then assaulted the victim with a firearm and fled on foot after the victim told them that he had no cash.
Minutes after police on mobile patrol arrived on the scene they found an individual nearby matching the description of one of the suspects. They stopped him, determined he was one of the suspects in the attempted robbery and arrested him.
Police are still searching for the other suspect who was described only as a dark male wearing dark clothing.