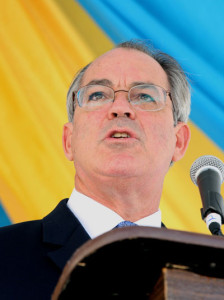 Nassau, Bahamas – The Bahamas – Deputy Prime Minister and Minister of Foreign Affairs the Hon. Brent Symonette called on the Church of God of Prophecy to strengthen partnerships towards a more caring society.
He was addressing the Ninetieth Annual National Convention of the Church of God of Prophecy at the East Street Tabernacle on Monday, March 14, 2011.
The weeklong convention under the theme: "Led By His Spirit", is advocating for a better community, though spiritual guidance.
"The Church of God of Prophecy is notable in our community not least of all because it has always taken an all-embracing approach to life, including the wider community together with its registered membership in its outreach," Mr. Symonette said.
He acknowledged the church as a place for having a reputation of happiness and joy; of spiritual sanctuary and comfort; a music-filled place where worship services seek always to be uplifting and soul affirming.
He said although the government has made significant progress in improving the quality of life, a new affinity with materialism and a weakening of traditional family values and the illicit drug trade continues to wreak havoc on the society.
"And so I heartily embrace the call of the Church of God Incorporated in The Bahamas for us – the church, the Government, the family, the people – to be led by the Spirit; to become even better partners in our country so that we become a more caring, compassionate and Christian Bahamas," Mr. Symonette said.
He pledged the government's continued support to secure and expand funding for education and for technical vocational training especially for the youth, notwithstanding these difficult economic times.
"We remain conscious also of the special needs of our senior citizens who need an extra helping hand. We look to continuing to work with you to strengthen programmes of assistance for the aged particularly where the church is able to expand its involvement," Mr. Symonette said.