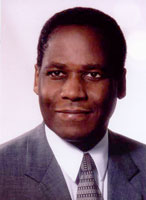 By Dr. Marcus Bethel, former Minister of Health
11th June 2012
The Fourth Estate which today includes print, television, radio, electronic and social media, is considered the best bulwark against tyranny and abuses of power by governments.
We have witnessed in recent times the positive impact of accurate news and information on the global political, social and economic systems.
The results of the recent general elections in the Bahamas not only provided an overwhelming mandate for the PLP, but resulted in a  weakened opposition FNM lacking "political gravitas".
Therefore an urgent need exists for a strengthened and vibrant Fourth Estate in our beloved Bahamaland.
Strengthened in the knowledge that fair and balanced reporting is recognized and appreciated by the population.
Fair and balanced reporting encourages wider community-based intelligent discourse of national issues creating a more informed and mature body politic.
Parliamentary and public policy issues in particular should be critiqued in a balanced and fair manner to inform and not inflame individuals.
Unfair and overtly partisan reporting fosters disdain and cynicism towards the media resulting in loss of credibility and influence in the national discourse.
Vibrant in conducting thorough investigative journalism. Journalists encumbered with unreasonable time constraints are prone to publish incomplete and inaccurate reports.
Highlighting on a continual basis the outstanding and progressive community-building activities of the many unrecognized and unsung heroes including students, teachers, athletes, clergy, community activists, professionals, entrepreneurs, musicians, artists, artisans and civic organizations can inspire others to emulate and achieve.
We must believe in one another, take pride in our accomplishments, support and encourage each other to strive for excellence.
Successful integration of the Bahamas into the global village requires an informed, inspired and educated society.
Nation building requires all sectors of our society to play their roles with pride and integrity, and to be supportive of each other.
The Fourth Estate has a vital role to play in this nation building exercise.