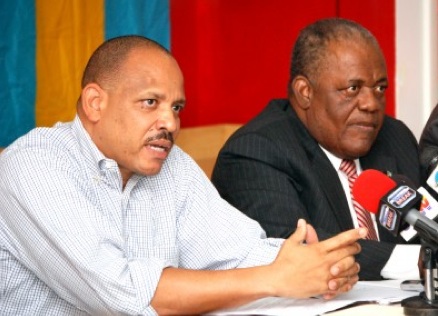 Sands faces defeat like a victim looking down the barrel of a gun!
The Train is leaving the station and some FNMs are not on board.
Bahamas Press is at this hour in the Elizabeth Constituency where we know the FNM candidate in the area, Duane Sands, is in big big trouble. Sources in the constituency tell us Sand may be the first FNM to not get his deposit back and the bell is about to be rung this week.
We can report there is no activity in the FNM office. No support is being shown and the candidate is now demoralized to see the lack of support..
We can confirm Sands attempted to approach a group of PLPs who told him, "It is not about you.  This election is about the future. It is about keeping the assets in Bahamian hands. It is about fighting to retain Bahamian ownership and it is about putting our people first."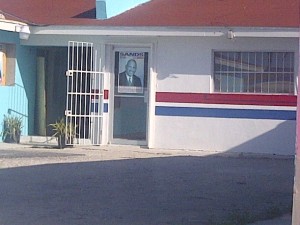 Apparently, Sands and the FNM have been opposed to all of the above, and he personally has taken this attack against Bahamians even further.
Sands was the lone FNM who refused to assist mortgage holders at the Bahamas Mortgage Corporation who were facing foreclosures. In the times of great need, Sands went on national radio and TV to defend the government's position to kick young single mothers onto the street. In fact, on the coldest day in winter, Sands, with a stroke of a pen, threw a single mother and her five children out onto the streets only days before Christmas and threatened to do the same to others who have fallen on hard times.
Bahamas Press is calling on the people of Elizabeth, particularly those facing foreclosure with the banks, to reject the heartless doctor whose ego is taller than the EMPIRE STATE BUILDING!
We call on residents to consider the plan announced by the PLP to assist struggling Bahamians who have fallen on hard times and reach for the GOLD!
A new day is upon us to steer The Bahamas in the right direction.
Meanwhile a fan of Bahamas Press is weighing in on the axing of Aaron Kiki Knowles. The writer notes:
Just read about Papa Clown's  replacement of Kiki. This is a development of DYNASTIC proportions. Here we have the vindictive and omnipotent Papa Doc Ingraham placing the mantle for propaganda on his daughter as the new Baby Doc and the Goebbels (Chief Propagandist) for the FNM (Foreign National Movement or the First National Mistake).

Had Ingraham weighed all the talented members of the FNM in the balance and found them wanting before making his demonic choice?

This is the same Party that, through its mouthpiece, Janet Bostwick, cruelly once characterized Candidate Michelle Pindling as Baby Doc. Remember that campaign?
Happy Easter.
We report YINNER DECIDE!