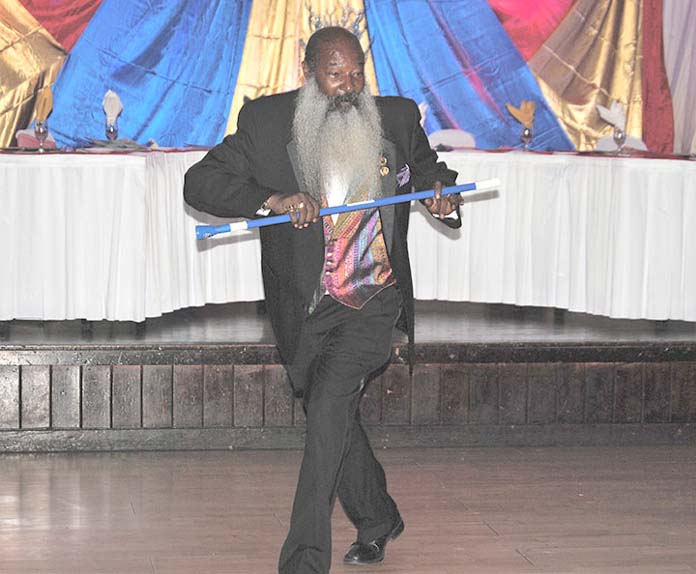 The cultural community, public servants and friends of Eddison "Fast Eddie" Dames gathered this weekend to celebrate with him as he retires, after having given the government of The Bahamas more than 42 years of dedicated service.
Worker's House was transformed into the scene for a masquerade ball held in his honor, under the patronage of Prime Minister Perry G. Christie.
"Fast Eddie", as he is fondly called, could be described as a larger-than-life character, Mr. Christie said, adding that he is always distinguished by his appearance and booming voice.
"I am privileged to have known him for many years… since early childhood he has been a devotee of Junkanoo and it is interesting that over all the years, he has remained one of the more avid developers and promoters of this art form," Mr. Christie said.
"It is through persons such as Fast Eddie that Junkanoo has taken root throughout The Bahamas and is now embedded as a part of our cultural mainstream."
Although well-known in his current capacity as Assistant Director of Culture, Fast Eddie also spent many years as an air-traffic controller, assistant manager at Nassau International Airport, and Training Officer at the Road Traffic Department. He was responsible for the re-writing of the Emergency and Security Manuals for the Civil Aviation Department and was also charged with the responsibility of being the chairperson and coordinator for the Emergency Disaster Planning Committee. He is a founding member of the Bahamas Air Traffic Controllers Association, which led to the formation of The Bahamas Air Traffic Controller Union. At the Road Traffic Department, he established for the first time, a training course for all Road Traffic Supervisors and Officers.
Within the Ministry of Youth, Sports & Culture, Fast Eddie is known for the establishment of the Junkanoo Festival Period National Championships. Annually, he traveled throughout the Family Islands to select the island champions in the categories of best cowbeller, best drummer, best dancer, and best two and five-men horn combo. In his personal life, he grew up under the Valley Boys, rushed with the Pigs, and is currently the Public Relations officer for the Saxons Superstars. He has served as a Junkanoo ambassador around the world and has received awards and certificates in this regard, including from the Smithsonian Festival of American Folk Life, the Martin Luther Parade in Perrine, Florida and the State of Louisiana Governors' Award.
In his civic life, Fast Eddie is an Anglican who served in various facets of the church, including choir, Anglican Church Men, and Anglican Young People Association. He is also a member of Columbus 16 lodge and participates in a number of community outreach programmes. He served as secretary to the Bahamas Boxing Commission, the National Sports Advisory Council, and the National Regatta Committee.
"A huge pillar in our Bahamian cultural society and an exemplary figure for the younger generations to follow," is how Minister of Youth, Sports and Culture Dr. Daniel Johnson described him. Minister of Tourism Obie Wilchcombe added: "While the Public Service record shows Fast Eddie's reputation as an innovative bureaucrat, it is his artistic personality that has captured the public's imagination."