FNM candidate set to lose like her father in Long Island. Residents set to reject the FNM.
FNM Candidate tell former MP and Long Islander Get his F****** A** off Long Island!
Nassau, Bahamas — There is election heat rising on the island of Long Island and at least one former politician has been verbally assaulted by the FNM candidate on that island.
Former Bamboo Town MP, Tennyson Wells, was verbally assaulted and threatened with a head-on collision by FNM candidate Loretta Butler-Turner.
In an exclusive interview with BP, he explained that the incident unfolded yesterday as he was visiting his mother on the island.
According to Mr. Wells, "I was in Roses visiting friends and relatives when suddenly, while speaking with some friends, Mrs. Turner pulled up and began shouting expletives.
"She said, what are you doing on this F****** island campaigning against me? What are you F****** doing here? Get your F******* A** off this island.
"I was shocked by the behavior of the FNM candidate. I just could not believe a woman in the FNM would conduct herself in such a manner. I could not believe what I was hearing. That has never ever happened to me ever in all my years as a MP."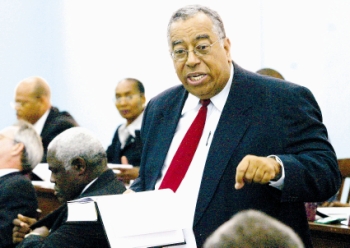 Mr. Wells went on to say, "After leaving the residents in the area and heading further south, it was then when the Social Services Minister returned and proceeded to drive in the opposite direction of my truck and we almost had a head-on collision.
"I must say, if Mrs. Butler-Turner was to get elected, which I doubt she will, she would not be a fit and proper person to represent the fine people of that island. I am surprised she is running there. No one behaving in such a way should seek to become a Member of Parliament."
Bahamas Press reported this week Butler-Turner is in meltdown with several of her generals who have defected from her campaign. Some members of her team have resorted to raw rank intimidation of the weak on the island, with some persons being threatened to have their food stamp benefits from the government removed if they refuse to vote FNM.
We cry dutty shame on the FNM candidate.
We report yinner decide.