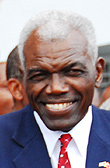 Nassau, Bahamas — Breaking News HAPPENING NOW! Reports coming into Bahamas Press now confirms, another incident where a track-star has become victim of a crime.
Sources tell us, Thomas A. Robinson, no longer has two golden pendants presented to him sometime back in 1956.
The iconic sportsman presented his pendents to a jeweler to be cleaned, however, when Robinson went to pick up his golden pieces the items could not be found.
Another International track-star was shattered as crime takes a turn for the worse with these CASH FOR GOLD SHOPS!
Just days ago robbers ransacked the home of international track-star, Paulene Davis-Thompson. The bandits made good with all of the track medals of the Bahamian athlete.
PAPA CLOSE DOWN DEM CASH FOR GOLD SHOPS!