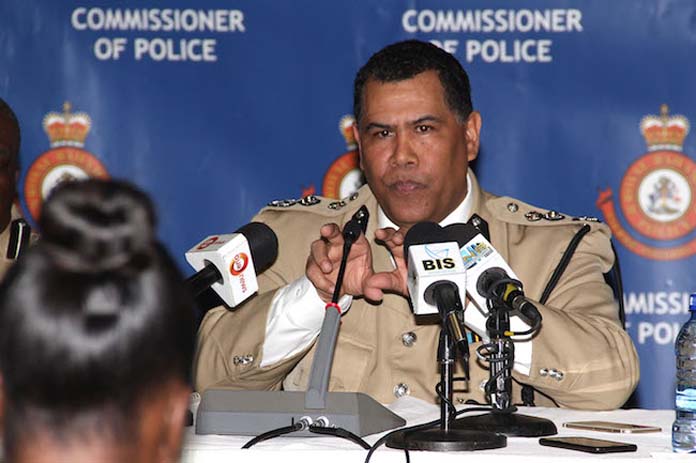 NASSAU, The Bahamas – The Bahamas experienced a 26 percent decrease in overall serious crimes for the year 2016 – the largest decrease in serious crime in 12 years — thanks in large part to double digit decreases in almost every category of crime, Commissioner of Police Ellison Greenslade announced Wednesday, January 11, 2017.
Mr. Greenslade cited the implementation of a number of new police initiatives, public support, the "diligence and sacrifice" of the men and women of the Royal Bahamas Police Force and public adherence to community policing advice, as additional reasons for the decrease.
"I wish to thank the decent, hardworking men and women of the Royal Bahamas Police Force who sacrifice daily and put their lives on the line to make The Bahamas a safer place for all of us to live, work, visit and play," Mr. Greenslade said.
"I am satisfied that the majority of our officers are decent, upstanding, honest and industrious Bahamians who live out our motto of courage, integrity, and loyalty every day."
Addressing members of the media during a press briefing held at the Paul H. Farquharson Conference Centre, Police Headquarters, East Street, Commissioner Greenslade said the 26 per cent decrease was the most "significant overall decrease in crime in The Bahamas since the year 2004."
Mr. Greenslade reported that murders were down by 24 percent (111 were recorded in 2016, a decrease of 35 murders or 24 percent from the 146 that were recorded in 2015); Manslaughter was cut in half; Rape was down 18 per cent; Attempted Rape (6 per cent); Armed Robbery (19 per cent) and Robbery (13 per cent).
Crimes against property – burglary, house break-ins, shop break-ins etcetera – decreased by 29 per cent overall in 2016. He said the decreases in crimes against property and serious crimes were primarily due to the "tremendous support" from members of the general public
Burglary was down by 15 per cent; House Break-Ins down by 25 per cent; Shop Break-Ins (down by 9 per cent); Stealing (down by 13 per cent); Stealing from vehicles (down by 47 per cent) and Stolen Vehicles (down by 30 per cent).
"This overall decrease was influenced by double digit decreases in every category of crimes against property, except shop break-ins which comprised a single digit decrease of 9 per cent," Mr. Greenslade said.
"These very encouraging results, in 2016, were due to many factors – a primary one being the tremendous support from members of the public and their adherence to community policing advice."
Police initiatives that included a more determined and deliberate response to pursue and arrest persons who committed crimes and those in possession of illegal firearms, ammunition and drugs and an increase in the numbers of officers attached to the Selective Enforcement Team (SET) whose job is to target and arrest prolific offenders, were highlighted as two of the key initiatives that have contributed to the success in the war on crime and criminality during the course of the year.
Police Officers were "drawn" from various sections of the Force to supplement SET, a move Mr. Greenslade said, "has made a positive difference at the sharp end of policing."
Force Leaders also redirected the efforts of the Firearm Tracing and Investigations Unit (FTIU) at the Central Detective Unit and worked much more closely with their regional and international partners in 2016 as part of its thrust to interdict even greater numbers of firearm and ammunition traffickers.
Some of the personnel involved in the firearm and ammunition interdiction initiative included Detectives from specialist areas such as the Central Detective Unit (CDU) and Security and Intelligence Branch (SIB), members of the Selective Enforcement Team, along with Divisional officers and Intelligence officers.
As a result, 316 illegal firearms (34 Shotguns, 209 Pistols, 38 Revolvers, 22 Rifles, 12 imitation firearms and 1 flare gun) and 4,905 rounds of assorted ammunition were recovered in The Bahamas in 2016.
"We launched hundreds of targeted operations in 2016 and we executed thousands of search warrants and arrest warrants," Mr. Greenslade said. "These initiatives, across the Force, clearly supported the Force's policing priority of reducing crime by targeting prolific offenders and interdicting illegal firearms.
"In 2017, we will continue to target persons who traffic and possess illegal firearms and ammunition. We will continue to arrest them and place them before the criminal courts," Commissioner Greenslade added.