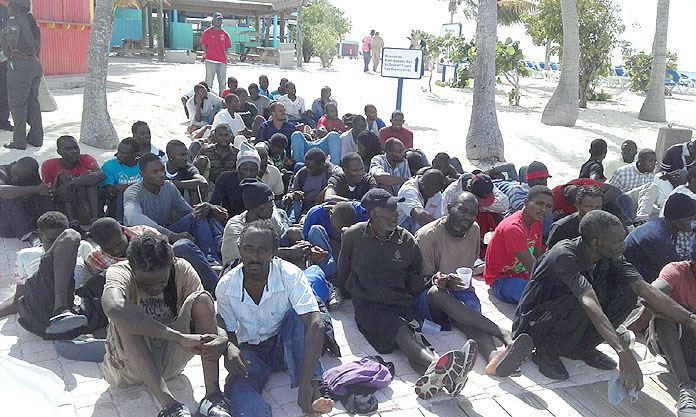 Coral Harbour Base, 19 SEPT. 16 (RBDF): A total of 117 Haitian migrants were apprehended in the southern Bahamas early Monday morning by members of the Royal Bahamas Defence Force.
While on routine patrol shortly after midnight, Defence Force patrol craft HMBS L.L. Smith, under the command of Acting Lieutenant Commander Stephen Rolle, boarded and searched a 40-ft white cabin cruiser approximately 61 nautical miles northwest of Matthew Town, Inagua. A thorough search of the vessel uncovered the migrants consisting of 96 males, 17 females and 4 children onboard. The migrants were taken aboard the Defence Force patrol craft and they are currently being transported to New Providence where they will be handed over to Immigration Officials for further processing.
This makes a total of 190 Haitian migrants apprehended in Bahamian waters in less than two weeks by members of the Royal Bahamas Defence Force. A total of 73 undocumented migrants were apprehended off Abaco on September 8, 2016.
The Royal Bahamas Defence Force remains committed to defending the territorial integrity of The Bahamas.