Why would the former Prime Minister get in this NIB saga? Is it his conscience licking him?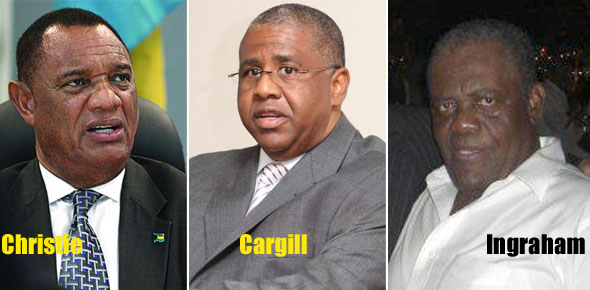 Nassau, Bahamas — It was indeed incredible to see the former Prime Minister back on his feet and having an opinion on the national affairs of the Bahamas.
Perhaps it is a good time for those in power to begin questioning the PM on the myriad of issues left unattended following his demitting office before the North Abaco By-election.
Mr. Ingraham responded to a Guardian reporter by saying his government left NIB in good shape before May 7th and that what is unfolding at NIB today is what has transpired under the new Christie Administration.
NOT TRUE!
What has unfolded with Greg Moss happened under the PLP government, but the millions of unanswered questions now being looked into by a forensic audit at the board all occurred when former Prime Minister Hubert Ingraham served as Minister with responsibility for NIB.
As far back as Nov. 2009, when our probes into NIB first began we without hesitation questioned the former Prime Minister on the state of Affairs at NIB and requested a probe back then.
And if things at NIB were so good then, perhaps the former PM could answer the following:
1) How is it more than 8 million dollars was paid to one electrical company named Kenuth's Electric for every capital works project issued by the NIB on behalf of your government [Hubert Ingraham]?
2) How is it that that same single electrical company, which is believed to have a silent partner inside NIB, was granted almost $46,524.00 monthly in contractual works for the Board, which were committed directly to the owner of the company?
3) Why was more than $24,000 per month paid to a security firm by NIB to have one security officer at the gate of the old Buena Vista property?
4) How did a contract issued for the Robert Smith Centre at Sandilands balloon from a contract proposal of $6.1 million to a whopping $12.1 million and to the present day the building is yet incomplete and the funds committed for equipment never delivered by the contractor selected by NIB?
5) How did your government allow charges to be racked up to the tune of more than $240,000 from a credit card held by Algernon Cargill leaving no paper trail in NIB accounts department as to what the charges were for, or where those purchases made? How did that happened?
6) How did your government allow the Director of NIB to rent a suite at Sandy Port owned by his brother for 20 months, with no one occupying that suite for 16 of those months? More than $134,000 was paid to the owner[s] by NIB.
7) And since you love the number seven perhaps the Former Prime Minister could answer this one: Why did your government never investigate the following dark scandals at NIB in the last three years while in office which included the following
a. THE CONTRACTS TO KENUTH KNOWLES,
b. The Contracts to PORKY DORSETT,
c. The Contracts to IRAM LEWIS,
d. The Contracts to CHARLTON MORLEY
e. AND THE DEAL TO JEFFERY LLOYD, just to name a few.
If NIB is in "Good Shape" as Mr. Ingraham described when he left office then Greece must be the envy of the world and must be doing far better, and is growing faster than China.
Perhaps members of the Press should get more serious when probing Hubert Ingraham on the scandalous affairs at the National Insurance Board, matters we at Bahamas Press believe a Commission of Inquiry now should be opened to investigate and force the former Minister [Prime Minister Hubert Ingraham] to answer – for we at BP with all seriousness say: "There is no way Cargill could have gotten away with the things he did alone."
On Sunday BP will drop the main rock in NIB and when we shall give you the shocking details of the Executive bonus paid to Cargill twice a year.

We report yinner decide!