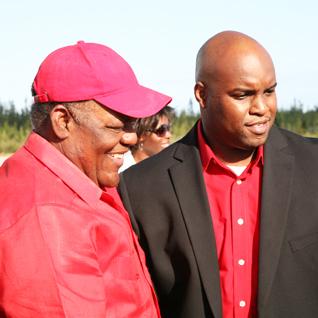 Close friend suggest Johnson is another mental case in the FNM
South Eleuthera, Bahamas — Word coming out of South Eleuthera say Howard Johnson may not be able to contest the upcoming General Election  as a Candidate for the FNM due to residency requirements.
It has been reported that Mr. Johnson was a resident of Fort Lauderdale up to Dec 2011.
He has not been a resident of the Bahamas for at least a year to be eligible to be nominated as a Candidate. It is alleged that the FNM did not do a proper job in vetting this Candidate and may suffer the same fate as its junior party, the DNA.
The DNA had to drop several candidates after it discovered all manner of things wrong and after being exposed by BP.
What is more interesting about the Howard Johnson story is one of cronyism and abuse of the Public Purse. "It is one thing to help out a broke arse Candidate, but it is another thing to use the Public purse to do it," an irate Senior Member of the FNM from South Palmetto Point told BP.
It is being widely circulated and alleged on the Island that Mr. Johnson was given a Local Government Contract in the amount of $ 10,000  ( Ten Thousand Dollars).Nobody on the Island can say for what purpose was the contract issued to Mr. Johnson. It is further being said that he did not have a business license or an NIB number at the time of the issuance of the Contract.
Sources out of the Treasury have said that the cheque granted was issued by one Chrisfield Johnson, an Administrator on the Island.
If the allegations are true, we call on the Government and the Local Government on the Island to say what the Contract was for and whose Authority $10,000 of taxpayers money was issued.
That kind of money could buy plenty Howard Johnson Ice cream. Those of you old enough to remember when the ice cream franchise was here at the Nassau Beach, it was Ho Jo to go.
We report, yinner decide.