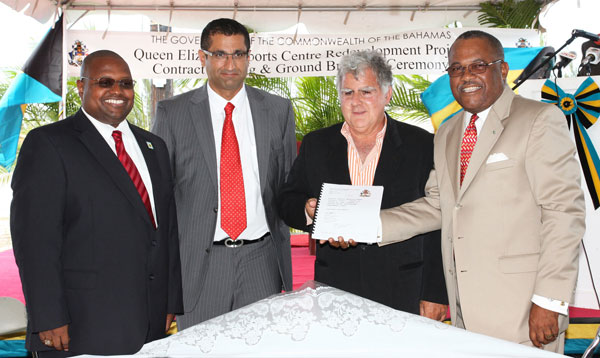 By Twotado Bahamas
THE Government broke ground on the first two phases of the Queen Elizabeth Sports Centre redevelopment project yesterday.
The works will serve to facilitate the commissioning of the new national stadium set for completion this summer.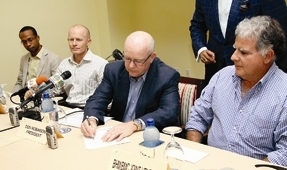 Speaking at the ceremony yesterday, Prime Minister Hubert Ingraham explained that the redevelopment was "hastened" as the stadium works, gifted by the Chinese government, did not include utilities, parking and road access.
"The completion of all phases of the redevelopment of the Queen Elizabeth Sports Centre is likely to take many years," Mr Ingraham said. "Today, we begin two Phases of a five Phase overall Development Plan. These Phases of the redevelopment works are essential to make operational and useable the new Thomas A. Robinson National Stadium – now scheduled for completion in June."
At a cost of $48.5 million, the contract was awarded to Bahamas Hot Mix Co Ltd and Bahamas Marine Construction, which submitted their winning bid under a joint venture partnership. The winning bid was said to be 5 per cent below the engineer's estimate for construction.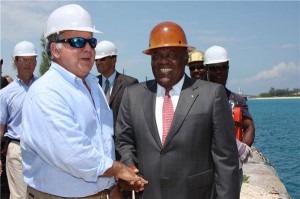 Mr Ingraham said: "The phases will result in enhanced entrance with parks and open green spaces leading from Thompson Blvd to the Sports Centre which will be linked to the Tonique Williams-Darling Highway along an enhanced Yellow Elder Way; a new road extending from a new round-about at the Government High School that will link the QE Sport Centre with the New Providence Highway now referred to as Bethel Avenue.
"An extension of Moss Road will link Thompson Blvd and Blue Hill Road, while a new connector road will link Moss Road to the round-about at the Government High School," he added.
The new road works, promised to have little to no impact on the present flow of traffic, will also establish new parking areas, drainage systems, and landscaping throughout the area.
Mr Ingraham said: "These works will not only complement the operations of the new National Stadium and augment the development of the Queen Elizabeth Sports Centre, they will also contribute to my government's goal of transforming the landscape of New Providence and providing residents and visitors with modern and reliable infrastructure and utility services.
"It should not be lost on any of us that enhanced sporting facilities hold considerable potential for other and additional benefits to our country, namely the growth in sports tourism; potential new revenue sources to the benefit of sport and the increased opportunities for additional sports development."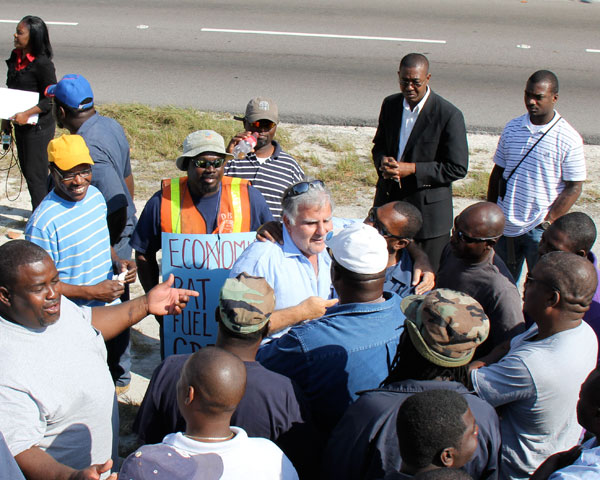 WE NEED CHANGE!