Former Bahamian Ambassador to Washington could face contempt of court charges and be remanded to Prison
Nassau, Bahamas — A former Bahamian Ambassador to the US and former MP for Grand Bahama, Cornelius A. Smith, could find himself on the wrong side of the law and locked up for contempt if he fails to conclude payments on a land deal going as far back as 1981.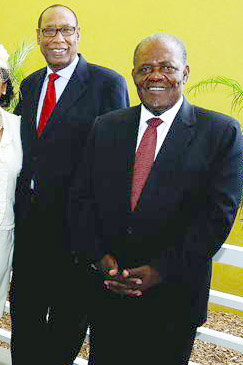 Documents supplied to Bahamas Press reveal a property purchased by the former MP on Burton Lane in Freeport was never concluded in payment and to date the former Ambassador to Washington owes one Claudette Ewing more than $31,742 [THIRTYONE THOUSAND SEVEN HUNDRED AND FOURTY-TWO DOLLARS.]
And this is just the beginning.
Even after filing papers in the court to collect her money from Ambassador Smith, the former MP has avoided returning calls to the woman. This is where it gets interesting.
In a court action titled "Claudette Ewing vs Cornelius Smith – Common Law Action NO. 898 of 1985″, the Ambassador was ordered to pay Ewing the owed sum [$31,742.89]. Accrued interest and legal fees pushed the bill even higher and guess what Smith did?
Following that 1985 ruling, he issued a cheque of $8,000 to Ewing, paying his lawyer, then former Attorney Rhonda P. Bain, $800 out of it and who then forwarded to Ewing the balance. But there's more.
As far back as Nov. 30th, 1990, then leader of the opposition, Hon. Hubert Ingraham, was made aware of the situation via a letter from the then unemployed woman. And what did the North Abaco MP do? Put Smith on the ticket to run and had him join his Cabinet.
The Former Prime Minister completely ignored the 1990 letter.
Smith many would remember joined the House of Assembly for the first time as the representative for Marco City in 1982, which was what Pine Ridge was renamed in 1987. He won re-election to the House on four successive occasions between 1982 and 2002.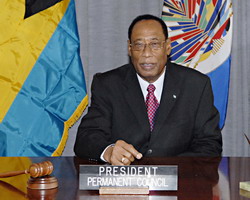 Ingraham appointed Smith to his first Cabinet in 1992 as Minister of Education. He also later served as Minister of Public Safety and Immigration, Minister of Tourism and Minister of Transport and Local Government.
But while all these appointments of high office was being thrust on the Grand Bahama MP, the candidate, the Cabinet Minister, the Ambassador avoided paying Ms Ewing like a cat running from water.
And there is more.
And after being awarded a judgment in the courts, a letter dated Sept. 28th, 2007 – some 26 years later – Ms Ewing decided to update then Prime Minister Ingraham about the matter once again. This time she became concerned that there was a man, C. A. Smith, who owed her money, was being announced as an Ambassador to Washington, while a unfulfilled judgement issued by the courts of the Bahamas stood over his [Smith's] head.
Ms Ewing reminded the Prime Minister in her letter that judgement was served on Mr. Cornelius Smith and that the matter was still pending.
She noted how Ms. Rhonda Bain was unsuccessful in closing the matter. But again, Prime Minister Ingraham [the action man who would cut off hands of those who steal] did not a damn thing. In fact, records would show Ingraham never responded to the woman and proceeded to appoint C. A. Smith to the US ambassadorship.
It is UNBELIEVABLE!
And therefore we ask the questions:
Why did Hubert Ingraham appoint C. A. Smith as an official representative of the Bahamas to the United States of America, even after knowing the former MP had a judgement matter hanging over his head?
Why did Hubert Ingraham fail to respond to the concerns expressed by a Bahamian citizen on this matter?
Do you think if this woman was the Aga Khan or Kernzer the same result would have been experienced?

We wonder what kind a man is Smith to defy the courts of the Bahamas!
We advise the victim in this matter to seeks the court's permission to proceed with contempt proceedings and have Smith either pay the debt immediately or spend time in Fox Hill Prison for failing to adhere to an order of the court.
Ambassador could go to jail for contempt!
We report yinner decide!