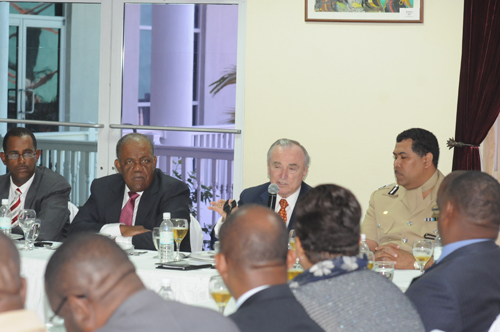 The left hand don't know know what the right hand doing…
Nassau, Bahamas – The government of the Bahamas takes crime very seriously and is relentlessly pursuing bold solutions to curb crime and maintain our peaceful way of life in the Bahamas.
Crime is a social issue the government is determined to solve by any necessary legal means. To that end the government is involving all elements of society and incorporating all qualified advice.
"We will show no tolerance and we will not rest until the scourge of crime is eliminated from our society," said Prime Minister Hubert Ingraham.
In addition to numerous initiatives to fight crime, including reforming, increasing and equipping the Royal Bahamas Police Force, and passing a very strong anti-crime legislative package, the government invited for discussions Mr. William Bratton, the Chairman of Kroll, a New York based risk consultancy. ]
A former police chief, Mr. Bratton became renowned for his successful contributions to solving crime issues in much tougher jurisdictions, such as New York and Los Angeles.
Under New York Mayor Rudolph Giuliani, Mr. Bratton implemented a no tolerance policy to ensure that petty crime does not lead to an overall escalation of criminal behavior.
He also increased the diversity of the police force to reflect the demographic make up of the cities in question, as well as discouraging police corruption, acting tough on gangs and involving law-abiding elements of the society in crime prevention.
"The government is looking at all avenues to boost its crime fighting plan, incorporating elements from people and organizations such as Mr. Bratton, who have real life expertise in reversing crime escalation in very tough locations," said National Security Minister Tommy Turnquest. Any such information that is rendered useful, will be implemented and reinforced by the Royal Bahamas Police Force led by the Police Commissioner.   The aim is to leave no stone unturned and fine-tune efforts designed at rooting out crime and ensuring the Bahamas remains a safe haven for all its citizens and visitors alike. "Our lawful and peaceful way of life must and will be preserved," emphasized Turnquest.