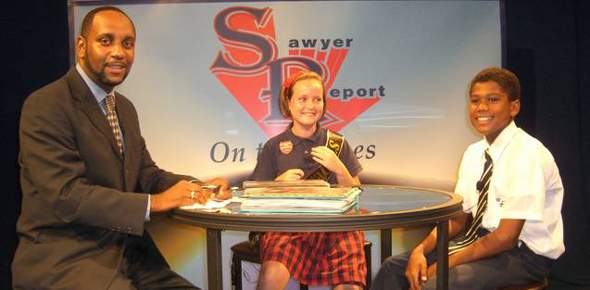 Jerome says he resigned but here a resignation exercised through the FNM hand of victimization…
Nassau, Bahamas – Breaking News hitting BP this afternoon tell us ZNS has sacked its former news anchor and host of the Sawyer Report just weeks before the bell is to be rung.
Sources deep in the FNM TONIGHT [ZNS] tell us that Sawyer's contract was up for renewal by the end of the year, but friction between him and FNM goons at the corporation got heated.
We are also told operatives of the government were disgusted to know the Sawyer was entertaining opposition party members [DNA & PLP] over FNMs on his evening broadcast.
BP can confirm his contract would not be up for renewal following developments. He, we are told was told was told to "ROLLOUT" of the BCB.

Now get this. Insiders tell us two FNMs inside ZNS overheard some conversations with Sawyer and a guest following a live FNM event.
The source confirmed to BP that both operatives – KNOWN TO PAPA CLOWN – taped the entire conversation like SNITCHES and reported to PAPA what was shared.
Orders we can confirm came before 9AM to have Sawyer packed up, shipped out and rolled out of ZNS.
We now know ZNS is taking a turn for the worse. No one knows who to trust inside for the "sacrilegious demigods" who now sing there is no one Greater than Their PAPA CLOWN.
Rank raw VICTIMIZATION now at ZNS like horse dung in the middle of Bay Street.
Here we go AGAIN!
Meanwhile we are told Papa landed at Freeport International this afternoon with a screw  face. Sources tell us when he exited the terminal, he met outside a stretch limo decked in GOLD RUSH PLP flags. Outside the airport was an awaiting motorcade for PLP chiefs, Christie, Davis and Roberts.
As Ingraham left the airport the crowd began shouting: CHRISTIE PLP GOLD RUSH COMING!
Hubert ran in his waiting police car and fled leaving his police aide.

We reporting yinner deciding…
UPDATE: Jerome, we are told, may be joining a major business in the country.