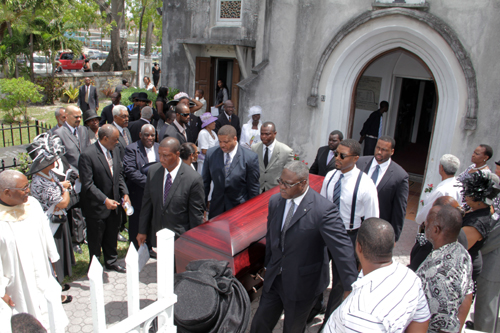 Kenneth Francis from the Fort Hill brought the Nassau Guardian from the dark ages into the modern era.
He was one of the boys who rose from the bottom in the Nassau Guardian right up to the top. When he died he was 82 and was lauded by leaders from all parts of the society.
Craig Flowers of the the FML Group spoke on behalf of the Golf Federation which Mr. Francis once led. The Governor General Sir Arthur Foulkes, the Prime Minister Perry Christie, the former Prime Minister Hubert Ingraham; the Minister of Foreign Affairs Fred Mitchell, the Minister of State for Legal Affairs Damien Gomez, the Deputy Prime Minister Philip Davis, the former Governor General Sir Orville Turnquest were among the mucks who were present. 
The photos are by Derek Smith of the Bahamas Information Services./ article from Bahamasuncensored.com