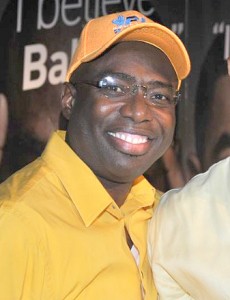 Breaking News coming into Bahamas Press confirms PLP Garden Hills candidate is resting comfortably in hospital at this hour following an emergency procedure. The next Garden Hills MP suffered an acute appendicitis where he underwent surgery to have it removed.
In a statement issued late this afternoon, Dr. Major's wife Monique wrote:
The family of Dr. Kendal V. O. Major, Progressive Liberal Party Candidate for the Garden Hills  Constituency in the upcoming General Election, wishes to advise that Dr. Major was faced with a  medical issue on the evening of March 30, 2012, which required that he be hospitalized.
After the initial  assessment, it was determined that a surgical procedure was necessary.  Dr. Major underwent  successful surgery on March 31, 2012 and is now recuperating in hospital.
Dr. Major is expected to  make a full recovery and it is not anticipated that this medical procedure will negatively impact his candidacy in the upcoming general election.
In order to assist with the speedy recovery process, his  doctors and the family are prohibiting visitors in the short term.
The family asks that you keep Dr. Major in your prayers.