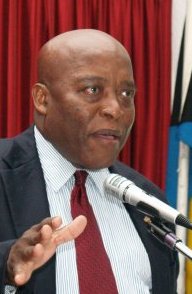 Dear Editor,
According to Zhivargo Laing, Grand Bahama is the "best kept secret in the Americas." ZNS News reported last night that Laing made this startling statement to a group of businessmen at a meeting held in Canada yesterday. 
Laing went to Canada in his capacity as the Minister of State for Finance along with Prime Minister Hubert "THE DICTATOR" Ingraham, Minister of Finance, for the annual meetings of the Inter-American Development Bank (IDB), but they decided to turn the trip into a promotional tour for The Bahamas and were accompanied by Minister of Tourism Vincent Vanderpool-Wallace and a group of Bahamian business persons. They are scheduled to return to The Bahamas on Thursday.
Obviously, Laing must have been totally unaware of the implications of his remarks about Grand Bahama being the best kept secret in the Americas; otherwise, he would have adhered to the advice implicit in a "Thought For Today" that I posted on Facebook yesterday, which said: "Never put both feet in your mouth at the same time, because then you won't have a leg to stand on."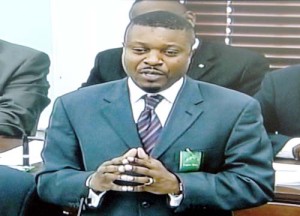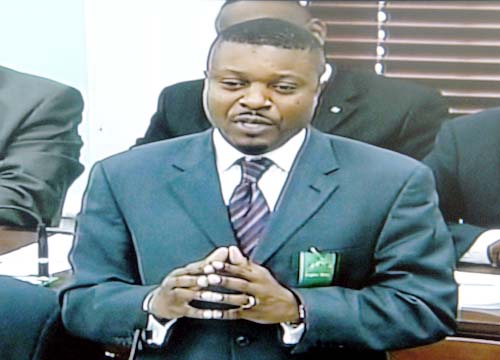 Isn't Lang intelligent enough to realize that his remarks were a total indictment of the FNM government? Didn't he understand that what he was saying is that the FNM has totally neglected to promote Grand Bahama to the outside world? Didn't he realize that the FNM government's decision to halt ZNS national broadcasts from Grand Bahama could be interpreted as meaning that the FNM wanted to keep Grand Bahama as the best kept secret in the Americas?
As the Member of Parliament for Marco City, a constituency in Grand Bahama, he should hang his head in shame for having the audacity to make such an admission. That's like rubbing salt into the gaping wound inflicted on the people of Grand Bahama by the neglect of the Ingraham administration.
What I suspect is that Laing was reacting to widespread criticism of his failure to even mention Grand Bahama's name in his address at the FNM's mass rally on Clifford Park on Saturday, March 19; instead, he used that occasion to brag about what a great leader The Bahamas has in Ingraham, clearly indicating that praising Ingraham was more important that suggesting solutions to the high unemployment and other problems facing his constituents and, indeed, Grand Bahamians in general. So given the opportunity to "promote" Grand Bahama to the Canadian people, he ended up putting both feet in his mouth.
With a general election not far away, voters in Marco City must remind Laing of his poor representation when he comes knocking on their doors seeking their support for his re-election bid. Fortunately, residents of Marco City are being offered an outstanding candidate by the Progressive Liberal Party in Gregory Moss, who has demonstrated that a humble beginning in life is no barrier to what one can accomplish through hard work and a determination to achieve. As a successful Grand Bahama-based lawyer, Moss proved that he has strong leadership skills during his recent two-year tenure as president of the Grand Bahama Chamber of Commerce, and because he comes from a humble background (his mother was a maid who struggled to provide him with a good education), he understands the plight of the small man.
In all fairness, though, Laing also comes from a humble background (his mother was a straw vendor), but he has allowed his blind devotion to Ingraham to prove that John Morley, the late British Liberal statesman and writer, was absolutely correct when he made this profound statement: "No man can climb out beyond the limitations of his character."
 Yours sincerely,
Oswald T. Brown
Freeport, Grand Bahama