'Cutter' puts one man in hospital bed and another set for jail…
Charles "Mooneye" Saunders is suspect wanted by police…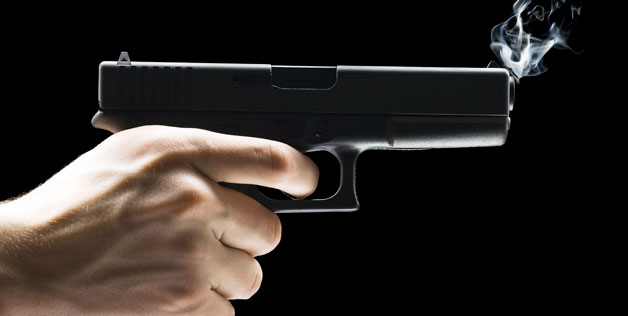 Nassau, Bahamas — Getting punched in the midsection is something else, but getting shot there is a whole different story and that was exactly what one man suffered Sunday morning for juicing another man's gal.
Now Bahamas Press is not taking any sides in this fight and all we saying is this, "We want see this gal who now has a man with a dysfunctional penis and another man headed to jail for attempted murder and possession of a firearm."
A 29-year-old man was shot 5 times in the groin after 'roachin' another man 'tings' Bahamas Press can report.
The 'cutter' [ the gal in the middle of the dispute] we are being told has had deep affection for two of the men, and was about to settle down with one when the incident occurred early this morning.
Determined to not let the diva go, reports suggest the alleged shooter, Charles "Mooneye" Saunders, sometime around 9:50am this morning, traveled to the residence of the victim in Bain Town and opened fire, pointing the automatic handgun towards the midsection of his victim and discharging five bullets on him.

Nah wait!
Saunders [the attacker in this report] sped off in a white Honda Civic car with his license plate unknown while his victim, though still conscious, fell to the ground. Due to visibility, eyewitnesses told BP by the time we got on the ground they were unable to see if other persons sat in the escaping vehicle, which reportedly sped in a southerly direction along Augusta Street and then eastwardly along Poinciana Drive.
Associates who know the driver tell us he along with his victim had been fighting over this one woman for weeks now and the situation climaxed to this sudden and violent incident.
Developments confirmed the victim had to be operated on immediately to save the his life and remove the five bullets. His condition is listed as "Serious" and has left the 'jiggalo' unable to raise anymore. At 29! BOY, that's tough!
For the men who love to mess around other man women, all we say is this: If ya like it let it kill ya!
To the family of Charles "Mooneye" Saunders: turn that Jackass over to the police! Cause, where he going, only men ga be with him! Wonder how he ga fight off them 6-foot tall man in g-string up in Fox Hill?
Every relative known to the man on the run should be telling police where he is! Do not give him any safe passage!
We report yinner decide!